Southern Delaware Convocation held in Rehoboth Beach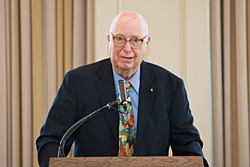 Click here
for slideshow
7 p.m., May 31, 2008--The 250 Associate in Arts degree graduates, parents and friends who attended the University's Southern Delaware Convocation ceremony at the Rehoboth Beach Country Club on May 29, heard UD President Patrick Harker promise to explore opportunities for an increased University presence in southern Delaware.
Harker opened the ceremony by congratulating graduates on having met the rigorous demands of earning a degree from the University of Delaware. He said their hard work and persistence have earned them a distinctive credential that will last a lifetime.
He also noted that this year UD and Delaware Technical and Community College are celebrating a 40-year partnership that has provided educational opportunities to Delawareans.
As part of UD's new strategic plan, Harker has committed to explore opportunities for an increased University presence in southern Delaware. In keeping with that initiative, he said a UD committee would be appointed to investigate the feasibility of constructing a new, four-year, model "green" campus in southern Delaware. It will report back to Harker by June 2009.
Harker said offering southern Delawareans enhanced access to top-quality higher education programs, research and service is an important part of moving the University forward on its Path to Prominence".
After Harker's welcome, Robin Morgan, dean of the College of Agriculture and Natural Resources, presented the University's Medal of Distinction to Hiram Lasher, a pioneer in the world of poultry biologics.
Reading from the medal citation, Morgan said, "Hiram N. Lasher, of Millsboro, Del., is known worldwide for the development of the poultry vaccine industry. His contributions, in Delaware, to education, youth development and public service also are extraordinary. Dr. Lasher was educated and trained in veterinary medicine and infectious diseases of poultry. His leadership and vision resulted in the establishment of several vaccine companies. The $1.7 billion dollar broiler industry on the Delmarva Peninsula would never have developed as it did...without the critical support of allied vaccine industry partners, and no one was more important to this biologics industry than Dr. Lasher."
Morgan noted that Lasher has long supported education in Delaware and poultry health programs at UD. He funded the transformation of a former U.S. Department of Agriculture research facility in Georgetown into a poultry diagnostic laboratory that was re-named the Lasher Laboratory. It is responsible for poultry disease surveillance and diagnostics throughout the region and internationally recognized for its integrated approach to poultry disease research.
"Hiram Lasher is a scientist, businessman, public servant, educational advocate and philanthropist who contributed significantly to the lives of many Delawareans. We thank you, Hiram, and wish you sunny days, for much remains to be done," Morgan concluded.
Paying tribute to the 40th anniversary of the Southern Delaware campus were State Sen. George Bunting Jr., AG '70, representing the state Senate and State Rep. Gerald W. Hocker, BE '71, representing the Delaware House.
After Bunting and Hocker's remarks, graduates were recognized individually and awarded their Associate in Arts degrees.
Congratulating students on their achievements were John Courtright, director of Undergraduate Studies, Thomas Apple, dean of the College of Arts and Sciences, Timothy Barnekov, dean of the College of Human Services, Education and Public Policy, and Shante Hastings, president of the UD Alumni Association.
Provost Dan Rich concluded the program by congratulating graduates and asking them to never take their higher education for granted. "Of all the more than 6 billion people on this planet, you are among a small fraction that has had the opportunity to attain a higher education degree," he said.
Rich urged them to give back to their communities, to thank the people who helped them advance their educations and stature in life and never forget the bond they have with the University of Delaware.
"So go forth as proud UD alumni, earn the good opinions of your neighbors, build your communities to be strong and lasting, change the world, always keep on learning and always keep helping others to succeed as you have succeeded," Rich said.

Article by Barbara Garrison
Photos by Kevin Quinlan