Citation conferring an Honorary Doctor of Laws degree on Olympia Jean Snowe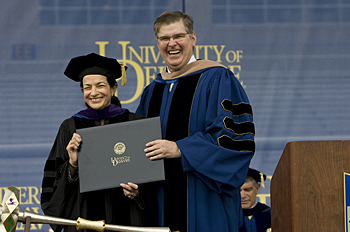 True citizen and dedicated public servant of Maine
,
you were born in Augusta in 1947, attended public school in your home state, and earned your degree in political science from the University of Maine. In 1978, at the age of 31, you were elected to the Maine House of Representatives to the seat left vacant by the death of your first husband, the late Peter Snowe. You have been representing the people of your state ever since. You went on to serve in the Maine State Senate, and then for 16 years in the U.S. House of Representatives. In 1994, you were elected to your first term in the U.S. Senate. You were re-elected in 2000 and again in 2006, when you received 74 percent of the vote, surely a hearty endorsement from the people of Maine.
Trailblazing politician, you were the youngest Republican woman and first Greek- American woman ever elected to the U.S. Congress. You also are the only woman in American history to serve in both houses of a state legislature and both houses of Congress. In 2001 you became the first Republican woman ever to secure a full-term seat on the powerful Senate Finance Committee.
In 2005 you were named the 54th most powerful woman in the world by Forbes magazine. The following year, Time magazine named you one of America's top 10 U.S. Senators and commended you as not only a major player on national issues but also one of the most effective advocates for your constituents.
Passionate and effective U.S. Senator, during your years in the Congress, you have built a reputation as a leading moderate who is willing and able to reach across the aisle and develop bipartisan consensus on key issues that matter to Maine and America. You have worked extensively and successfully in important areas such as budget and fiscal responsibility; education; national security; women's issues; health care; small business and entrepreneurship; oceans and fisheries; and campaign finance reform. You are a leader of intelligence and independence, one who is willing to buck the establishment when necessary and to fight for what you believe to be right.
Thomas Jefferson said, "The art of governing consists simply of being honest, exercising common sense, following principle and doing what is right and just." Sen. Snowe, throughout your distinguished political career, you have hewed to the standards that Jefferson espoused, and you have remembered always that you serve the American people.
May 31, 2008
Photo by Kathy F. Atkinson