Citation conferring an Honorary Doctor of Humanities degree on Calvin Edwin Ripken Jr.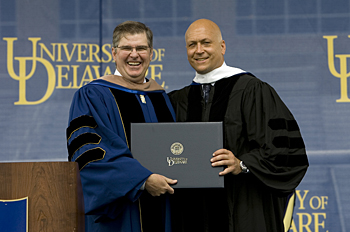 Baseball's Iron Man, Orioles icon, and Hall of Famer,
you earned a 21-minute standing ovation and the admiration of the entire country in 1995 when you played game number 2,131, breaking Lou Gehrig's 56-year-old record for consecutive games played. But "The Streak," as it came to be known, did not end there. You continued to show up ready to play every game for three more years, voluntarily ending your streak in 1998 after playing 2,632 straight games over 17 years. By the time you retired, you had played 3,001 games wearing the orange and black of your beloved hometown team, the Baltimore Orioles.
Your string of Major League Baseball accolades stretched from 1982, when you won the American League Rookie of the Year Award, to 2001, when you played in your 19th and final All-Star Game. Along the way you helped the Orioles to a World Series Title in 1983, and you earned two Gold Glove Awards, eight Silver Slugger Awards, and two American League Most Valuable Player Awards. Five years after you hung up your cleats, in your first year of eligibility, you were elected to the National Baseball Hall of Fame with 98.5 percent of the votes.
America's baseball ambassador, you retired from playing professionally, but you will never retire from the game you love. In 2001 you established Ripken Baseball with the mission of growing the game of baseball worldwide and you are now part owner of two successful minor league teams. You led the construction of a unique baseball complex in your hometown of Aberdeen, Maryland, that includes the 6000-seat Ripken Stadium and several youth-sized fields modeled after famous big-league stadiums.
Last summer, your role as baseball ambassador was taken to a new level when the U.S. State Department named you a Public Diplomacy Sports Envoy. As your first assignment, you went to China to train Chinese youngsters in the country's budding baseball program.
Dedicated guide and supporter of youth, you grew up in a baseball family with your father, longtime Orioles coach Cal Ripken Sr., as a role model. You learned that baseball is more than a game, that it can teach leadership qualities, a strong work ethic, sportsmanship, and healthy habits.
Through the Cal Ripken Sr. Foundation, you are using baseball and softball programs to bring these important life lessons to disadvantaged youth. Hundreds of thousands more benefit from participation in the Ripken Youth Baseball Academy and the Cal Ripken League, the division of the Babe Ruth League devoted to children ages 5 to 12. All told, more than 700,000 young athletes now play Cal Ripken Baseball worldwide.
You reach an even broader audience through your best-selling books, which include instructional guides for parents and coaches and a children's story, The Longest Season, that teaches children how to learn from difficult experiences.
Major League manager Joe Torre summed up well the esteem in which you are held when he called you a bridge back to the way baseball used to be played. "Hitting home runs and all that other good stuff is not enough," Torre said. "It's how you handle yourself in all the good times and bad times that matters. That's what Cal showed us. Being a star is not enough. He showed us how to be more."
May 31, 2008