First-ever Blue Hen Poll shows high student satisfaction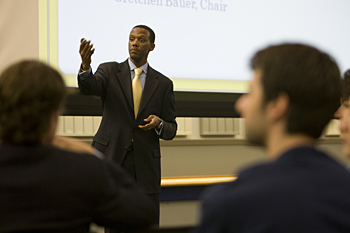 4:26 p.m., May 9, 2008--The results of the first-ever Blue Hen Poll, which were released on May 6, show that an overwhelming majority of University of Delaware students are satisfied or extremely satisfied with the University and that they were likely to recommend it to a friend or associate as a place to attend college.
The poll, which was sent to 1,500 randomly selected undergraduates on UD's Newark campus, was launched on March 13 by David Wilson, assistant professor of political science and international relations and Black American Studies, and political science majors on the Blue Hen Poll Research Team to find out how UD students feel about a wide range of political and social issues, including campus life.
The 13 students on the research team, who are enrolled in Wilson's Problems in American Politics class, took turns to explain the findings and subject areas during a presentation at Trabant University Center.
Caitlin Kennedy, a junior criminal justice and political science major from Kensington, Md., said that being part of the team was an eye-opening experience for her. "It's something I had never considered as a career," Kennedy said of polling. "But it's broadened my horizons and showed me how important polls are to society. This will definitely be a major influence on me."
The poll, whose major topics included student-faculty relationships, student social and academic experiences, sources of political information, political candidates and issues, political involvement, attitudes towards social and political groups, morality and religiosity, and socialization, was compiled from 643 responses and had a margin of error of 4 percent.
Wilson, a former statistical consultant at Gallup, an organization that has studied human nature and behavior for more than 70 years, proposed the poll last spring semester as an opportunity for his students to apply data analysis skills firsthand.
Eric Nielsen, senior director for media strategies at Gallup, who attended the presentation, said he was very impressed by the students' work.
"There are a lot of really bad polls out there, so I really appreciate the lengths to which the students went to get some pretty good polling," Nielsen said. "There is a lot of data in there that can be studied further. A lot of the real beauty is when you dig down to those deeper levels. You need a good foundation to be able to do that and they definitely have that."
Nielsen said a good poll represents public opinion, therefore leaders who say that they do not pay attention to good polls are essentially saying that they do not care about the public.
The full results of the poll are available at [http://udel.edu/~dcwilson/bluehenpoll.html].
Article by Martin Mbugua
Photo by Tyler Jacobson