Donald Williams, 69, is oldest '08 graduate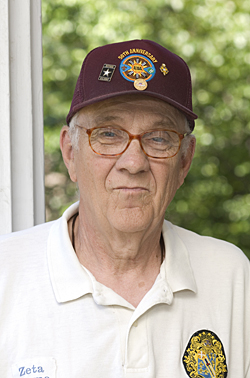 7 p.m., May 31, 2008--At 69, Donald A. Williams of Wilmington, Del., is the oldest student receiving a bachelor's degree from UD at spring Commencement. He majored in history.
Williams said he is especially interested in the history of American Indians. Through his father he is part Mohawk, and he has been involved as a founder and member of the American Indianist Society of Delaware and is a member of the American Indian Scouting Association. He has attended powwows for 14 years with different tribes in different states. On campus, he has also been involved with Alpha Phi Omega service fraternity.
A graduate of Husson College in Maine with a degree in accounting, Williams retired from the U.S. Army. He was on active duty for eight years, then in the Reserve and National Guard, working there as a full-time employee in computer operations after retirement.
When Williams heard about free tuition at UD for Delawareans over the age of 60, he said he decided to enroll, and he has been accepted to come back next fall to complete a degree in economics.
Article by Sue Moncure
Photo by Kathy F. Atkinson