Student from India earns master's degree via distance learning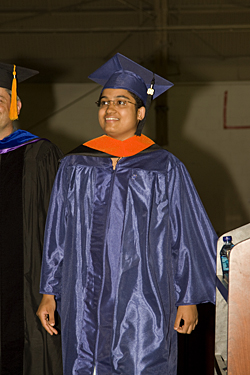 7 p.m., May 31, 2008--On Saturday, May 31, Asmita Atre, a native of India, became the first international student in UD's College of Engineering to receive a master's degree that she earned entirely online.
Atre took long distance courses for a graduate mechanical engineering degree from her home in Pune, India, and when she attended the mechanical engineering convocation on Saturday, she had spent only four days in the U.S.
"It was a wonderful experience seeing the campus and an honor to meet my teachers," she said.
Michael Chajes, dean of the College of Engineering, said,
"She did this 100 percent from India. Her family is in town for graduation, and she is meeting the faculty for the first time."
After earning a bachelor of technology degree from the University of Mumbai Institute of Chemical Technology in 2006, Atre began exploring the Internet to find schools that offered the blend of courses she was interested in taking long distance. She wrote to colleges and universities all over the U.S., but only four awarded long distance graduate degrees to students from other countries. UD was one of the four.
"UD afforded me a particular series of courses that were really unique," she said. She immediately began coursework toward her master's degree via the Web.
Atre did the coursework for a non-thesis degree while working full time as a design engineer for her family's company, Transparent Energy Systems. The international company is involved in all facets of energy efficiency engineering, specializing in power cogeneration, waste heat recovery, high efficiency boilers and heaters, water recycling, ammonia absorption refrigeration, air pollution control equipment and noise and acoustics control products.
Kathleen Werrell, assistant dean of engineering outreach in the College of Engineering, was Atre's contact and mentor.
"I believe that all of our engineering faculty will agree that Asmita is one of the most diligent students they have ever had take a distance course, always completing assignments and exams on time, which is rare among working professionals trying to squeeze in a graduate education," Werrell said.
She was so dedicated, Werrell said, that even when Atre's mother became seriously ill and had to have an operation in 2007, Atre persevered, passing all three of her courses.
Thrilled with the educational opportunity UD's long distance program gave her and reluctant to sever ties with the University, Atre said she and her family now are helping others in her country have the same opportunity.
"Earning levels, standards of living and aspirations of the Indian middle class are rising exponentially," Atre said. "Such families are not aware of the availability of such a mode of education and its quality."
Article by Barbara Garrison
Photo by Mark Campbell