Citation conferring an Honorary Doctor of Humanities degree on Louise Dowling Roselle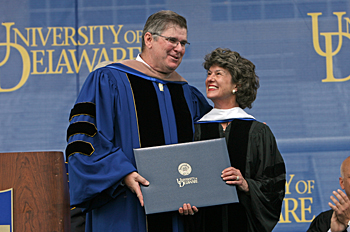 Treasured friend of the State of Delaware,
you served with grace and distinction for more than seventeen years as First Lady of the University of Delaware, greeting thousands of students and parents, alumni, faculty and staff, and friends to the President's House and at special events nationwide, making each guest feel welcomed and, indeed, uniquely special.
Gifted educator and mentor, you received both your undergraduate and graduate degrees in mathematics from Duke University and later utilized your education as both teacher and tutor, primarily for students preparing for the scholastic aptitude test. Perhaps one of the wisest lessons you learned in applied mathematics, however, was the understanding that two halves, equal in their value, make a whole, as manifested in your decision to marry a mathematics graduate teaching assistant at Duke. That union with your husband Dave today celebrates nearly 41 years of partnership.
Visionary gardener, you led an effort to richly enhance the University's campus beauty which resulted in an expanded landscaping program, using many indigenous species in the plan. Much of the landscaping we now see is the result of your understanding of how a campus can attract not only prospective students and their parents, but many scholars and researchers who come to study the University's extensive botanical gardens as well. In honor of your commitment to the University's horticultural beauty, the Board of Trustees established the Louise Roselle Graduate Fellowship Endowment in the Longwood Graduate Program in Public Horticulture.
Tireless public servant, you have served on the boards of the Newark Housing Ministry, Gilpin Hall--a home for the elderly in Wilmington, the Historical Society of Delaware, Grand Opera House, Delaware Symphony, Delaware Art Museum and the Garden Club of Wilmington. In addition, you served on the University of Delaware Library Associates' board of directors for many years and last year were named Director Emeritus.
Devoted daughter, wife, sister, mother, grandmother and friend, you cherish the lives of all those you hold dear--your husband, your father, mother and sister, your son and daughter, your grandchildren and your many friends and you have done so with intelligence and purpose, as well as your characteristic good humor and wit. You have created a vital legacy for your family--a legacy of love, support and trust--there are few achievements more noble.
Louise Roselle, you more than anyone fits the description of what success is according to Ralph Waldo Emerson's often recited quotation:
To laugh often and much;
To win the respect of intelligent people and the affection of children;
To appreciate beauty; To find the best in others;
To leave the world a bit better, whether by a healthy child,
a garden patch or a redeemed social condition;
To know even one life has breathed easier because you have lived;
This is to have succeeded.
May 31, 2008
Photo by Kathy F. Atkinson