Seven leaders, scholars receive honorary degrees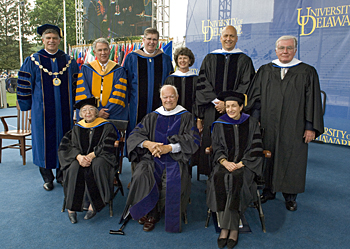 7 p.m., May 31, 2008--Seven honorary degrees were bestowed by Howard E. Cosgrove, chairman of the University of Delaware's Board of Trustees, BE '70M, on achievers from the UD community, Delaware Valley and beyond at UD's 159th Commencement, held May 31 at Delaware Stadium.
The distinction, the highest honor the University bestows on individuals whose contributions to the public good warrant exceptional recognition, was presented this year to:
"The honorary degree is the highest honor bestowed by the University of Delaware and is reserved as a great addition to our institution," Cosgrove said. "Today it is my pleasure to bestow this honor on seven outstanding recipients who will joins us now as members of the Class of 2008."
Cosgrove asked each recipient to join him at the podium as he read their citations and awarded their degrees. Click on the name of each recipient above to see his or her citation.
Article by Becca Hutchinson
Photo by Kathy F. Atkinson