Determined UD custodian graduates after 7 years as part-time student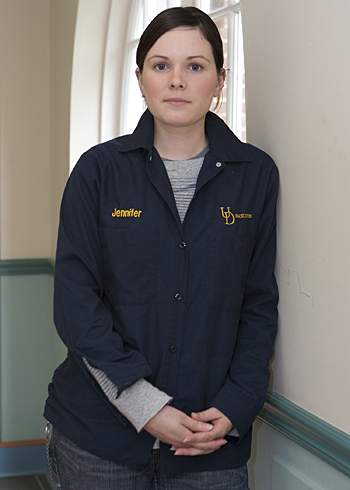 7 p.m., May 31, 2008--At 3:47 a.m., Jennifer Conner's alarm sounds to begin her day, which will not end until approximately 10 p.m. Conner wakes up, gets ready, feeds and walks her dog, Pepper, and is then on her way to the University's Newark campus, where she both works and attends school.
Conner is a custodial technician and a part-time student at UD, who graduated May 31 with a bachelor's degree in English and a minor in Japanese, after taking classes for seven years, year-round. This past April, Conner was inducted into the Sigma Delta Tau, the University's English Honor Society, and her grade point average has remained above a 3.0 despite her busy schedule.
Conner works in McDowell Hall from 5 a.m.-1:30 p.m., Monday through Friday, and has taken classes nearly everywhere in between. During spring semester, she enrolled with 10 credits--almost the amount of a full-time student.
Conner, 28, said after she graduated from Christiana High School in 1997 she was unsure she would ever go back to school. "Things happen and you just decide to take another route," she said. "But then after I met my husband, I began thinking about other things like buying a house and a career so I decided to go back."
Conner said she learned of an opening for a custodial position at the University through a fellow waitress at her job at the Post House on Main Street. After finding out she would be eligible for free tuition, she decided to register for classes part-time.
"The first class I took at the University was Japanese," Conner said. "I've had an interest in the Japanese language and culture ever since I was a little kid in elementary school."
She said her childhood best friend, who was Japanese, sparked this interest. As a kid, Conner said she looked forward to spending time with her friend's family and was especially fascinated by the language.
Conner said many of her classmates do not realize she works at the University and takes classes. It is only a problem, she said, when she is assigned group projects and has to explain her busy schedule to her professors and peers. Most of the time, they understand.
"I think I look really young--a lot of people think I'm a 19-year-old college student like everyone else here," Conner said. "I like to tell them my schedule as soon as possible to avoid any trouble later in class--and also because I'm not the typical college student."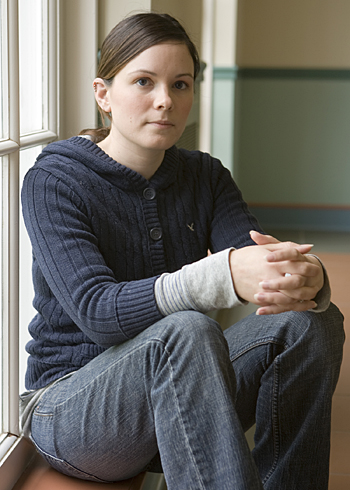 Conner said she loves writing, which is why she decided to major in English once she qualified as a matriculated student. For her admissions essay, Conner decided to write a narrative about a cat attending college. "My cat essay was a big hit," Conner said with a laugh. "When I called up the Office of Admissions one day and said my name, they said, 'Jennifer Conner? Did you write the cat essay? We loved that!'"
After some of her coworkers read her essay, they encouraged her to continue it and turn it into a children's novel, on which she is currently working. She said in the future, she would like to try and get some of her work published as children's books, which she said she most enjoys reading and writing.
When Conner is not cleaning hallways in McDowell Hall, practicing her Japanese or writing, she said she most likes to spend time at home with her husband of three years, her dog and a good book or video game. "They're my way of unwinding," she said.
While she has not made any firm plans yet, Conner said she is interested in teaching and hopes she can continue schooling and become a teacher some day.
Conner said she was looking forward to graduating, partly because she believes she will be the first in her family to do so.
"College isn't for everyone, but it was for me," she said. "I'm so proud I did it."
Article by Sarah Lipman, AS '08
Photos by Tyler Jacobson