Donald Sparks elected Distinguished Geochemistry Fellow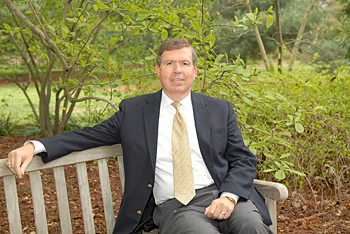 4:15 p.m., May 6, 2008--Donald L. Sparks, S. Hallock du Pont Chair of Plant and Soil Sciences and the director of the Center for Critical Zone Research at UD, has been elected a geochemistry fellow by the Geochemical Society and the European Association for Geochemistry. This significant honor is awarded to less than one percent of the membership of the combined societies each year.
"Our societies bestow this honor upon outstanding scientists who over the years have made a major contribution to the field of geochemistry," said Martin Goldhaber, president of the Geochemical Society and a senior scientist with the U.S. Geologic Survey.
Sparks is a leader in the areas of kinetics of geochemical processes and the application of synchrotron radiation techniques to study fate and transport of metals and nutrients in soils and other natural systems.
The Geochemical Society is a nonprofit scientific society founded to encourage the application of chemistry to the solution of geological and cosmological problems. The European Association of Geochemistry was founded to promote geochemical research and study in Europe.
"This is a great honor particularly with a society that is comprised of world class scientists," Sparks said. "I am honored that my colleagues took it upon themselves to nominate me."
Sparks was nominated by Alexandra Navrotsky, Edward Roessler Chair of Mathematical and Physical Sciences, Director of the Nanomaterials in the Environment, Agriculture, and Technology Organized Research Unity, and distinguished professor of ceramic, earth, and environmental materials chemistry at the University of California at Davis. Navrotsky is also a member of the National Academy of Sciences, according to which she is "known for her difficult and elegant calorimetric measurements of complex oxide compounds and for interpretation and application of the measurements to a large number of problems in Earth physics, chemistry and materials science."
Navrotsky said, "One of my reasons for nominating Professor Sparks is that his research is really unique in terms of applying fundamental geochemistry to very practical environmental problems related to soils, agriculture, pollutant transport and others. Very few people work in both fields."
She added, "From the point of view of the Geochemical Society, showing how what we do is broadly applicable as well as being good science, it is very appropriate for someone such as Dr. Sparks to be honored for such a breadth of scope. The other thing is that in addition to being a great scientist with a world reputation, he's a darn nice guy. He really helps his colleagues and students and is tremendously accessible."
In addition to this fellowship, Sparks is a fellow of the American Association for the Advancement of Science (AAAS)-a very prestigious award. He is also a fellow of the Soil Science Society of America and the American Society of Agronomy, holding the highest honors given by both societies.
Sparks said, "It is nice to be elected as a fellow of your 'home' society, but it is also an honor to be recognized by societies that represent other fields of science."
The Geochemical Fellow program was established in 1996. In addition to Sparks, six other fellows are named this year, bringing the total number of fellows to 164. Other notable past fellows include Robert Berner and Karl Turekian (Yale University), Francois Morel (Princeton University), Jill Banfield and Garrison Sposito (University of California Berkeley), and Michael Hochella (Virginia Tech).
In July, the new fellows will be introduced at the Goldschmidt Conference--the premier international geochemistry conference--in Vancouver, Canada. The conference is expected to draw approximately 2200 participants from almost 50 countries.
Sparks attended the University of Kentucky where he received a bachelor's degree in agronomy and a master's in soil science. In 1979, he completed his doctoral degree in soil science at Virginia Tech, upon which he moved to Delaware and began working at UD as an assistant professor of soil chemistry.
Sparks said, "I want to acknowledge that I have been extremely fortunate over the years to have a fantastic group of graduate students and post docs who have contributed to our research. Without their efforts, this would not be possible."
"One of my proudest accomplishments was as the recipient of UD's Francis Alison Award," Sparks said. The Allison award is the highest award that a faculty member can receive and is given for distinguished achievements in scholarship and one's profession, teaching, dedication, and services to the university and the mentoring of students.
Sparks was the first recipient of UD's Doctoral Student Advising and Mentoring Award. Sparks said, "This was and is still really meaningful to me, as my work with graduate students has been so fulfilling." To date, Sparks has advised over 70 graduate students and postdoctoral researchers.
In 2002, Sparks was designated as a "highly cited researcher" by the Institute of Scientific Information (ISI). The basic mission of ISI [www.ISIHighlyCited.com] as a database publishing company is to provide comprehensive coverage of the world's most important and influential research.
Sparks shares this honor with seven other UD professors: Herbert Allen, civil and environmental engineering; Jack Baroudi, accounting and management information systems; John Boyer (retired), marine and earth studies; Tsu-Wei Chou, mechanical engineering; Dominic DiToro, civil and environmental engineering; David Kirchman, marine and earth studies; and David Mason, food and resource economics.
Sparks has published three textbooks and over 170 refereed papers.
Article by Katy O'Connell
Photo by Danielle Quigley