African-American Students of Distinction honored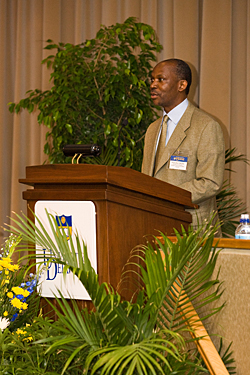 Click here
for photo album
4:32 p.m., May 28, 2008--More than 240 African-American students with grade point averages of 3.3 or higher were recognized for their achievements in a special ceremony attended by family members and hosted by UD President Patrick Harker on Sunday afternoon, May 11, in Clayton Hall.
Joining Harker in recognizing the African-American Students of Distinction were Wunyabari Maloba, assistant vice president for affirmative action and multicultural programs, and keynote speaker Norma L. Gaines-Hanks, assistant professor of individual and family studies at UD.
"We are very pleased with the high academic standards here at the University of Delaware," Harker said in his welcoming remarks. "Know that we are very proud of you in all that you have accomplished."
Harker said the Diversity Task Force that he appointed last month to conduct a review of diversity as an integral component of the University's mission will recommend specific actions that will support the University's commitment to diversity in the student body and among the faculty and staff, "so that we interact with each other and we learn from each other, because if we don't do that we are all the worse off," Harker said.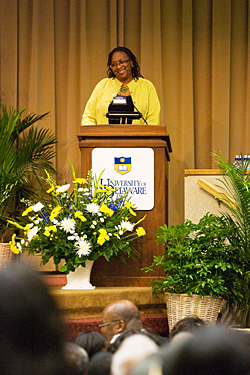 Gaines-Hanks, who opened her remarks with a tribute to her late mother, "first love, role model, mentor, confidante [and] best friend," said the success of individuals is greatly influenced by the community around them and the support they receive from others.
Citing sayings from the Zulus of southern Africa, "I am who I am because of who we all are," and from the Yoruba of Nigeria, "If we stand tall it is because we stand on the backs of those who came before us," Gaines-Hanks said strong social networks, religiosity and racial identity are among the key ingredients for the resilience of families of color.
"I wish you continued success as you move along your path to greatness. However, no matter how successful you become, do not forget that sense of connectedness to your family, your community, and the other entities that affected or defined your sense of humanity," Gaines-Hanks said. "Remember, you are who you are because of who we all are."
Music at the ceremony included a vocal performance by Whitney Coleman, freshman vocal performance major from Brentwood, Calif., who was accompanied by Hyun Soo Kim, a junior piano major from Newark, Del.
Following is a list of the African-American Students of Distinction honored at the ceremony.
College of Agriculture and Natural Resources
Davis Odhiambo Aluengeh, Engineering Technology
Kendra Mia Daniels, Animal Science
Kristofer Wade Dewberry, Agricultural Education
Robert Gooden, Animal Science
Stefanie Jan Leguillow, Animal Science
Ayeley Afi Kaye Okine, Animal Science
Jarvon Sherriece Tobias, Animal Science
Joy Noel Tydings, Food and Agribusiness Management
College of Arts and Sciences
Oluwafemi Yewande Adedoyin, English
Regine Tamarh Adrien, International Relations
Victoria Renae Balque-Burns, English
Genevieve Olivia Baptiste, English
Brittany Pearl Battle, Sociology
Dana Marie Bernard, Political Science
Amanda Marie Bessicks, Criminal Justice
Khalid Bilal, English
Michele Renee Blum, English
Jessica Lynn Bohbot, International Relations
U'nek Alexandria Brown, Psychology
Jessica Nicole Bruton, Biological Sciences
Stacy Nicole Burwell, Spanish Education
Margot Melissa Campbell, International Relations
Michelle Ann Carter, Criminal Justice
Kheshia Renee Cashwell, English
Useff Haki Chase, Biological Sciences
Noah Chase, Communication
Bobby Borkedey Codjoe, Political Science
Allana Cook, Communication Interest
Tiffany Nicole Cradle, Political Science
James Curtis Daniels, English
Marissa Deanna Davis, Women's Studies
Deanne Dewar, Psychology
Michael Lawrence Dickinson, History
Alicia Renee Downer, Anthropology
Angelica Sia Dunbar, Psychology
Shenise Monet Edwards, International Relations
Crystal El, Communication Interest
Courie N. Foster, Foreign Languages and Literatures
Hana Marta Fristensky, International Relations
Amanda Gawrgy, Communication
Lamar Rashad Gibson, English
Jennifer Lee Green, International Relations
Teagan James Gregory, History
Dinisha K. Guy, Foreign Languages and Literatures
Reza Kweku Hammond, Computer Science
Judith Marilyn Harper, English
Frankie Darryn Heyward, Biological Sciences
Norman Vince Hill, Biological Sciences
Roxanne Kimberley Horrell, Biochemistry
Brandon Vincent Jackson, Political Science
Richard Lee Jarnagin, Psychology
Christa Verna Jimerson, English Education
Laura Danielle Johnson, Biological Sciences
Rodderick LeConte Johnson, English
Tiara Corinne Johnson, English
Kathryn Carly King, Women's Studies
Marissa Nicole Kinsey, Anthropology
Alfred Allison Lance, Sociology
Lorraine Kerubo Makone, Political Science
Breonna Jonae' Martin, Biological Sciences
Stephanie Alexandria Martin, Women's Studies
Darrell Andre McBride, Biological Sciences
Brittany M. McCants, History
Angela Leah McDaniel, Criminal Justice
Shakir Jharet-Mosi McLean, Chemistry
Keondra Dineen Midgette, Foreign Languages and Literatures
Adrienne Michelle Miller, Biological Sciences
Sharice Yvonne Miller, Political Science
Obinna Stanley Mmagu, Biological Sciences
Brandon Demetri Morris, Sociology
David W. Moultrie, Economics - Arts and Sciences
Atieno Oduor, Political Science
Ronald Chigozie Ikechi Ogbonna, Psychology
Thea James Ogunusi, Sociology
Asari U.Okon, Sociology
Jubril Obafemi Onaneye, Biological Sciences
Lisha Lynette Purnell, Criminal Justice
Reginald Keith Quarles, History
Alexandra Genevieve Reid, Music Education-Instrumental
Keith Jamal Rich, Fine Arts/Visual Commuications Interest
Renicia Lisa Roberts, English
Krystal Allana Rodney, Biological Sciences
Tiffani Christine Ross, Women's Studies
Brittney Ciara Russell, History
Mohammed Mostafa Sabrin, English
Donald Andre Scott, Computer Science
Sarah Eva Shaw, English
Emily Ruth Smith, Biological Sciences
Mandy Robyn Sparber, English
Dionne Ja-Lin Stephenson, Sociology
Morin Denise Stewart, International Relations
Amanda Lashaye Strickland, English
Carl Suddler, History
Skyler Owen Sully, Computer Science
Erik S. Sutherland, Philosophy
Diaraye Sylla, International Relations
Steaphine Alisha Taggart, Political Science
Carine Mungo Tata, Chemistry
Kaitlyn Doreen Taylor, English
Charlene Monica Taylor, English Education
Wesley Ahsan Taylor, Mathematics and Economics
Chanel Christine Thomas, Biological Sciences
Anthony Tibuah , Biological Sciences
Wuroh Ahmad Timbo, Biological Sciences
Patricia Timothee, Biological Sciences
Wybens Titus, Information Systems
Tetsoma Omayone Tonwe, English
Devan Lashee Turner, Chemistry
Mfon-Valencia Ani Umoren, Biological Sciences
Kyle Lawrence Vaughan, Spanish/Political Science
Jasmine Maxine Washington, English
Elizabeth Ruth Way, History
Mia Jasmine White, Psychology
Jacob Martin Wiggins, English
Stacey E. Wilkerson, Psychology
Jheanelle Kale Wilkins, Sociology
Courtney Ann Williams, Mathematics
Megan Dedra Williams, Biological Sciences
Chati Lum Zony, Biochemistry
Alfred Lerner College of Business and Economics
Justin Lee Bacon, Business undeclared
Anthony Bernard Bailey, Accounting
Christina Bruce, Marketing
Sierra Alyne Bush, Economics
Danielle Cristina Caby, Management
Cierra Shantelle Carter, Marketing
Kathleen Yvonne Chappel, Marketing
Shenel Anelia Crawford, Finance
Larry Douglas Depte, Finance
Jeffrey Michael Fisher, Finance
Samiyah Yasmin Iddinn, Accounting
Glenn Arthur Isaac, Finance
Christofer Curtis Johnson, Economics
Landon A. LeDoux, Management
Brianna Lespinasse, Marketing
Ariana Nicole Lightfoot, International Business Studies
Warren Diverre Martin, Accounting
Quinn Emilienne Novels, Finance
Alise S. Pitt, Marketing
Jasmine D. Roberts, Marketing
Simonne Christina Robinson, Marketing
Nicole Loraine Sam, Marketing
Rachid Stoury, Management Information Systems
Mark Tharwat Tadros, Accounting
Akeem Mandela Tucker, Finance
Dionna Lea Tyson, Accounting
Shanette Maria White, Accounting
Jacob Martin Wiggins, Business undeclared
Shanna Raquel Wilkerson, Finance
Brittney Monique Younger, International Business Studies
College of Engineering
Alex Banks Aten, Mechanical Engineering
Kyle Linell Bivens, Electrical Engineering
Christopher William Dixon, Computer Engineering
Pernell Brice Dongmo, Electrical Engineering
John R. Elliott, Mechanical Engineering
Mason Jerrell Gibbs, Mechanical Engineering
Chetwyn Michael Jones, Mechanical Engineering
Malcolm Patrece-Abdul M. Khalil, Mechanical Engineering
Antoine Renard McClure, Civil Engineering
Aaron Brandon Nelthropp, Mechanical Engineering
Ariel Paige Roach, Mechanical Engineering
Brandon Michael Robinson, Civil Engineering
Jachin Dwight Spencer, Electrical Engineering
Khenya Ranae Still, Mechanical Engineering
Jesse Adiel Whitley, Mechanical Engineering
Pierre Claver Yao Koffi, Mechanical Engineering
College of Health Sciences
Kainde Julia Barduae, Nursing
Gabrielle M. N. Beddoe, Medical Technology
Taneshia Michelle Bright, Nursing
Brian Matthew Brown, Sport Management
Marina Angelique Caldwell, Medical Technology
Christopher Ian Cannon, Sport Management Interest
Johnita Rochelle Christmas, Nursing
Jeri Ariess Dorsey, Medical Technology
Emmanuel Sunday Ekwere, Nursing
Karen Ellis-Brisbon, Nursing
Sonsecharae Jamila Everson, Athletic Training
Collin Alexander Francis, Athletic Training
Bryce Braxton Gaines, Athletic Training
Nicole Donnella Gardner, Nursing
Janelle Nicole Green, Nursing
J'nai Marie Grymes, Exercise Science
Michael Joshua Holder, Exercise Science
Valerie Holmes, Nursing
Talishia Lavette Hopkins, Nursing
Tiffany Ellissa Jackson, Medical Technology
Vanzetta V. James, Nursing
Job Jean, Exercise Science
Danielle Andraya Johnson, Exercise Science
Olubunmi Titilayo Kassim, Nursing
Elizabeth Renee Lancaster, Athletic Training
Betty Nyambura Mathangani, Nursing
Jessica Victoria May, Medical Technology
Yvonne Nkirote Mbwiri, Medical Technology
Pierre Ngili, Nursing
Laide O. Olaogun, Athletic Training
Monica Osei-Afriyie, Nursing
Samuel Jacob Paul, Exercise Science Interest
Dominique Nichole Perkins, Nursing
Donald Lee Roberson, Health Behavior Management
J'Nelle Angelique Scarbriel, Nursing
Kevin Robert Schadt, Applied Nutrition
Danielle Alzena Smith, Dietetics
Akeita Marie Streets, Nursing
LaShaya Nicole Terrell, Nursing
Monique E. White, Nursing
College of Human Services, Education and Public Policy
Corrissa Yvonne Banks, Fashion Merchandising
Brook Alysha Boddie, Human Services
Tiffany Imani Brady, Hotel, Restaurant and Institutional Management
Diana Lynn Brinkley, Human Services
Bianca Jenia Brown, Human Services, Education and Public Policy
Jamie Rae Chamberlain, Elementary Teacher Education
Taiilore Ariel Cradle, Hotel, Restaurant and Institutional Management
Laurice Helen Elia, Human Services
Chanda Deann Gibson, Human Services, Education and Public Policy
Brandi Renee Gilbert, Elementary Teacher Education
Amberdawn Onica Griffith, Leadership
Ashley Lauren Hardcastle, Fashion Merchandising
Jeanette Ann Hopkins, Elementary Teacher Education
Geniece Jade Hyman, Elementary Teacher Education
Lauren Pilar Lampkin, Human Services, Education and Public Policy
Ashley Caress Mack, Early Childhood Education
Alison Felicia Mann, Early Childhood Education
Marie Monika Menuau, Hotel, Restaurant and Institutional Management
Alexandra Ruth Patterson, Early Childhood Development and Education
Shawneila N. Pierre, Human Services, Education and Public Policy
Sha'Laina Nicole Sample, Early Childhood Development and Education
Alex Jarryd Taliaferro, Elementary Teacher Education
Ethlynne Olabisi Thomas, Human Services
Jeffrey Elias Thompson, Human Services, Education and Public Policy
Valesha Yvette Turner, Early Childhood Education
Ashley Mona West, Apparel Design
University Studies
Dawn Johnson Byrd, University Studies
Derrick Calhoun, University Studies
Shenice Lavonna Hutchinson, University Studies
Danielle N. Jenkins, University Studies
Nedu P. Nweze, University Studies
Sigrid Lauren Williamson, University Studies
Article by Martin Mbugua
Photos by Kevin Quinlan