Citation conferring an Honorary Doctor of Humanities degree on Charles Michael Cawley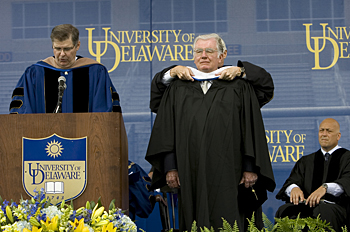 Visionary business leader
,
you founded MBNA and were the driving force behind its astonishing growth. From a small credit card company in a renovated A&P supermarket near Newark, MBNA grew to be the world's leading independent credit card lender, employing 11,000 people in Delaware and 30,000 worldwide. You never referred to the people working at MBNA as "employees"--they were always "people." When receiving accolades you still deflect attention from yourself by asserting that MBNA's success came because of the efforts of the people of the company that allowed this success to flourish. The people of MBNA had an attitude, cultivated under your leadership--and that attitude was to satisfy the Customer. You established the company precepts of hard work, honesty, and integrity--precepts that set the stage for success and that year after year won MBNA a place at the top of the lists of the best companies to work for in America.
Tireless friend of those in need, you lead by example. Your personal involvement with organizations like the Ministry of Caring in Wilmington, St. Benedict's Prep in inner-city Newark, New Jersey, and the Helen F. Graham Cancer Center at Christiana Hospital encouraged MBNA people to follow suit. During your time leading the company, the people of MBNA devoted over 600,000 hours each year in volunteer service to those less fortunate in their communities.
You found meaningful jobs within MBNA for more than 300 people with cognitive disabilities, and their solid work ethic, productivity, and dependability--along with the dignity and joy they feel at having meaningful work to do--convincingly demonstrates that all people can make a contribution if just given a chance. That program has taken root here at the University of Delaware and it is one that deserves to be emulated by every business and institution in America.
Steadfast champion of the University, you served the University for 12 years as Trustee, giving wise counsel on all matters that came before the Board. It was because of you that we now have the Alfred Lerner College of Business and Economics--dedicated to honor the memory of your good friend and business partner Al Lerner--and because of your belief in the quality of the University of Delaware diploma, thousands of U of D graduates found their first job at an MBNA office or call center. And through the MBNA Foundation, over $100 million was awarded in scholarships to talented young people to attend college.
Caring philanthropist, you have said that writing a check is the "easy part" of philanthropy, and you have written plenty to help organizations as diverse as Meals on Wheels, the Grand Opera House, the Delaware Symphony, and the Camden (Maine) Public Library. But as you and your wife Julie have demonstrated time and again, true giving is in the doing. Your personal commitment of time, guidance and enthusiasm to those organizations and many, many others is unswerving, and has made life better for thousands of your fellow citizens. You stand behind the organizations you believe in, bestowing on them the unassailable advantage of your own courage, optimism and strength.
Thomas Jefferson said, "In matters of style, swim with the current; in matters of principle, stand like a rock." Charles Cawley, you are a man of steadfast principle; a devoted husband, father and grandfather; a true friend; a mentor to countless young people; and a fine example to all.
May 31, 2008