UD grads likely to find jobs despite economic slowdown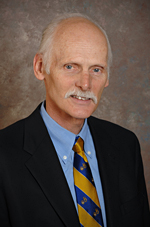 7 p.m., May 31, 2008--Despite a national mortgage crisis and fears of an economic recession, the employment prospects for the Class of 2008 remain positive, especially for students who have participated in an internship or earned work-related experience, said Jack Townsend, director of UD's Bank of America Career Services Center.
"While there has been a decline in the hiring expectations of employers, it remains positive," Townsend said. "The financial area is more unstable because of the mortgage crisis, but that is not the whole story: When you look at the graduating class, it represents all the majors and they are looking at employment in all fields."
Kelly Carder, a graduate student in communication from Omaha, Neb., said she easily found a job in the housing program at George Washington University.
"It wasn't a very long process," said Carder, who attended job fairs in February and April. "It's very easy to get a job, especially in residence life. There are many entry level positions."
Danielle Caby, a business management major with a minor in management information systems, from Annandale, N.J., said the process through which she landed a job at J.P. Morgan Chase was not easy, "but I won't say it was extremely difficult.
"I think it's pretty easy for a business major to get a job," Caby said. "Most people get jobs by the end of the fall semester in their final year."
According to a recent report by the National Association of Colleges and Employers (NACE), hiring expectations remain positive in manufacturing, trade, utilities, business services, nonprofits and government. Declines were noted in construction and finance. The report also shows that hiring expectations by U.S. regions are highest in the Northeast, where employers anticipate hiring 12.4 percent more new college graduates this year, followed by the Midwest at 11.9 percent. The West had 2 percent and the South was 1.2 percent.
Townsend said that UD graduates also have significant advantages because of their superior education and thorough preparation through the Career Services Center and participation in internships.
According to a NACE survey of employers, new college graduates looking for a job will likely have an edge over their competition if they have participated in an internship or otherwise gained work-related experience.
"Approximately 95 percent of the organizations responding to NACE's Job Outlook 2008 survey said candidate experience is a factor in their hiring decisions," the report stated. "More than three-quarters are most interested in relevant work experience, but nearly 20 percent give candidates points for any type of work experience. On the question of how the experience is gained, respondents were split."
Senior Craig Epstein, an accounting major from Baltimore, said his work as an intern created an easy path to his new job in the tax department of accounting firm Ernst & Young in Philadelphia.
"I definitely think holding internships and part-time jobs helps a lot," said Heather Greenberg, a marketing management major from Baltimore, who found a job as an event planner at the Omni Hotel in Washington, D.C. "It was relatively easy."
Erica McKeon, an accounting major from Shamong, N.J., who will be working in the auditing department of Sunoco in Philadelphia, said UD's Department of Accounting and Management Information Systems does an excellent job of preparing students for the job market.
Lauren D'Andrea, a communication major from North Caldwell, N.J., said that she easily found a job as an account coordinator with LyonHeart, an advertising agency in New York City.
"The job market is great," D'Andrea said. "I think there is a job out there for everyone, but don't waste time doing things that are not going to help you, like going to every single job fair. Single out events that are relevant to you. If you can get through four years of college, you can find a job."
Besides internships and preparing for interviews, Carder said students need to pay attention to small but critical details that can ruin their prospects.
"Don't give 'sweetiepie94' or 'cutiepie' as your contact e-mail address," she said. "Remember that that is the first point of contact you have with a potential employer and you want to come across as very professional."
Article by Martin Mbugua
Photo by Kathy F. Atkinson