Awards for outstanding seniors announced
Editor's note: Click here to view the Honors Day booklet (in PDF format), which includes listings of all University Awards and new honor society members.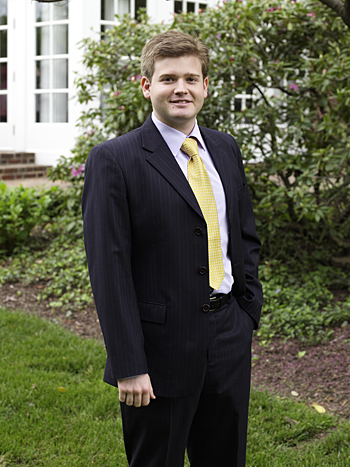 12:35 p.m., May 9, 2008--Zachary Bachrach Schafer and Carol Anne Cipriani have been named the outstanding man and woman of UD's Class of 2008 and, as such, are the recipients of the Taylor and Warner awards, respectively, given annually by the UD Alumni Association.
The Taylor Award, first awarded in 1968, is named in honor of Alexander J. Taylor Sr. (1875-1940) and is presented to the outstanding senior man. The Emalea Pusey Warner Award, honors the late Mrs. Warner (1853-1948), and has been given to the outstanding senior woman since 1950.
Emalea Pusey Warner is remembered as a champion of education. In 1911, she became chairperson of the State Federation of Women's Clubs' Committee on Education, working diligently toward establishing a state-supported women's college in Delaware. She later became the first woman member of the Delaware College Board of Trustees. Both Warner Hall on the UD campus and Warner Elementary School in Wilmington are named in her honor.
Valedictorian of the Class of 1893 with a degree in civil engineering, Alexander J. Taylor Sr. was an active alumnus who was elected to the Board of Trustees in 1927, 1932 and 1938, serving on the Grounds and Buildings Committee, the Executive Committee and chairing the Finance Committee. Taylor Hall was named in his honor.
Students considered for the $2,500 awards must have demonstrated leadership, academic success and community service as exemplified by Mrs. Warner and Mr. Taylor. Applicants also must have a cumulative grade point index of 3.0 or better at the end of the first semester of their senior year. The awards are presented each year at a luncheon with UD President Patrick T. Harker, held on Honors Day. The recipients also lead the alumni delegates' procession at Commencement.
Zachary Bachrach Schafer, AS '08, Unionville, Pa.
Schafer describes himself as a doer, and in keeping with that spirit, says that what makes him happy and keeps him inspired is meeting challenges--several at once--head-on.
A transplant to Unionville, Pa., in ninth grade after spending his childhood in the Virgin Islands, Schafer said that ambition came early in his high school career, when he met with culture shock and social awkwardness, and he added that with the challenges came a sense of resolve and a talent for self-reliance.
"I like to have my hand in everything, and I'm not afraid to try a lot of different things," Schafer said, adding that when something interests him he usually finds a way to pursue it. A triple major in economics, history and international relations who also has taken several graduate-level courses in energy and environmental policy, Schafer said he would have liked to have done more, but will save that for the possibility of graduate school.
"If I ever were to come back and get a doctoral degree, I would probably take some business classes and do something for energy and environmental policy," he said, "but I also like the idea of combining economics with history, because I have a very strong interest in why the economy works the way it does and why, historically, people in power have made certain decisions."
Now completing a course of independent study and working for UD's Office of Development and Alumni Relations and as a teaching assistant for Ralph Begleiter, Edward and Elizabeth Goodman Rosenberg Professor of Communication and distinguished journalist in residence at UD, Schafer, who completed his official coursework in the fall with a 3.7 grade point average, said he isn't quite ready to leave UD.
"I really discovered myself here," he said, "and the friends I've made and the faculty I've met have really made UD my second home. I never expected to come here, and now I can't see myself anywhere else."
Besides his academic pursuits, Schafer was president of the UD chapter of Phi Sigma Pi, the coed honors fraternity; vice president of the UD chapter of Alpha Lambda Delta; a leader and key event organizer in Hillel; and a member of UD's Honors Program and Distinguished Scholars community as a Caesar Rodney Alumni Scholar, an Alison Scholar, a recipient of the James R. Soles Fellowship and Alumni Enrichment Award and, from a national pool of candidates, one of 30 undergraduates selected for the Alpha Lambda Delta Jo Anne J. Trow Award.
Schafer also took advantage of several study-abroad opportunities offered through UD, starting his freshman year with a trip to Argentina, where he studied photography and political science. In his sophomore year, he continued his coursework in photography with a trip to Antarctica, and during his junior summer, he branched out into service learning with a trip to Vietnam, where he helped to build a well for a small rural village and helped craftspeople set up online photo galleries of their wares to sell over the Internet.
Additionally, Schafer did two study-abroad trips on his own--one that he describes as "the capstone of [his] experience at UD." That one, in 2006, involved attending the World Social Forum, held in Kenya, where Schafer was one of more than 40,000 delegates weighing in on such issues as property rights, AIDS, poverty and access to clean water. While there, he also volunteered at an orphanage in Nairobi--an experience that called him back for an encore last summer, when he volunteered for six weeks and conducted research on the infrastructure of 20 rural and urban orphanages in Nairobi and its surrounding countryside.
"I consider myself an entrepreneur," said Schafer, who also volunteers closer to home as a language partner, pairing international UD students with mentors at UD's English Language Institute. "I'm good at a lot of things, and I don't have the patience and focus to just do one thing. I like to have my hand in a whole lot of things at once."
To this end, Schafer said immediate plans after graduation include working for UD's Office of Development and Alumni Relations while restoring a sailboat, planting an orchard, renovating his family's summer home in Elkton, Md., and launching a business specializing in high-end computer graphics technology with a roommate and fellow UD alumnus. Schafer said he plans to run the marketing and business end of the enterprise and, true to his entrepreneurial streak, has already begun conducting market research.
"It's the kind of technology where if it does take off, it could revolutionize the way animation artists and others do graphics rendering," Schafer said. "I have high hopes, because I think it would be a lot of fun to create something from the very beginning."
Lawrence Duggan, professor of history and Schafer's mentor, said that Schafer, while excelling academically, also possesses the kind of intellectual curiosity that extends beyond the classroom.
"Although Zach is not the most flashy of the very top students, it has been my pleasure to mentor him, and he perhaps comes close to the 'ideal student,'" Duggan said. "He has certainly taken full advantage of what the University has to offer in trying to figure out both himself and his life's work, and he has been willing to take risks to do so, which is what all students should do.
"He also is manually dextrous--a born fixer of things and an accomplished pianist--and besides being very smart, he is emotionally very well-balanced, as well," Duggan said. "He listens to his heart as well as his mind. He understands that the purpose of life is a life of purpose and that from those to whom much is given, much is expected.
"Zach already has given back much to the University community in service, and he will live his life giving generously to the world of his time, his treasure and his talents," Duggan said. "He knows that it is his job to be happy with his life."
Carol Anne Cipriani, CHEP '08, Philadelphia
Cipriani's enthusiasm is contagious, and she has no doubts that she's putting it to the best possible use with her chosen major and career.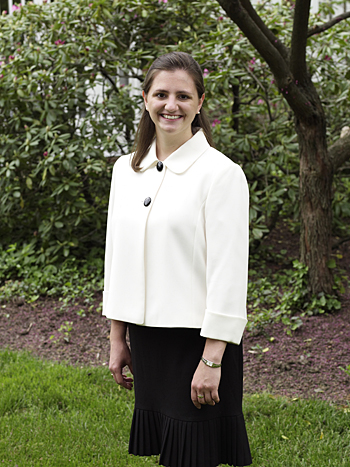 An elementary education major, with the added credentials of special education and middle school math specialization, Cipriani, who carries a 4.0 grade point average, said that nothing inspires her quite as much as inspiring others. And along with her desire to teach lies a commitment to boost math confidence in kids who struggle with numbers.
"Because I've always loved math and I've seen how many kids struggle with it or dislike it, I want to be able to share my knowledge with them," said Cipriani, a native of Philadelphia. "Math is something that is really needed for life, so when I chose to be a teacher, I decided to bring that to the classroom."
Now taking extra math courses and pursuing a course of independent study with Nancy Jordan, a professor in UD's School of Education who is directing a study on children at risk for learning difficulties in mathematics, Cipriani will be triply qualified for teaching math, special education and general elementary K-8 curricula when she graduates in May.
A member of UD's Honors Program and Distinguished Scholars community, Cipriani is the recipient of an $8,000 per year academic scholarship that she earned upon graduation from high school, and has served at UD as a Freshman Fellow, a Russell Fellow, and a Senior Fellow. Additionally, she is a member of Kappa Delta Pi, the national education honor society, and UD's chapter of the Student Council for Exceptional Children.
She was the recipient of the Excellence in Academic Achievement Award from the College of Human Services, Education and Public Policy (CHEP) in 2005, 2006 and 2007 and was recognized with the Alumni Honors Day Book Award, the Karen Beck Scholarship Award and the Educational Testing Service Recognition of Excellence for her outstanding score on the Praxis Series Elementary Exam, a nationally required test for public school teachers.
On Honors Day, May 9, Cipriani also received the Outstanding Student Teacher Award, the University Panel of Distinguished Seniors award, the CHEP Panel of Outstanding Seniors award and the CHEP Excellence in Academic Achievement award.
"I never can just stop with the basics," said Cipriani, who also has played leadership roles all four years in the University Christian Fellowship. "I like to go for a challenge." Cipriani added that while she was faced with many of the expected challenges in the classroom during her student teaching assignments at Holly Hall Elementary School and Cherry Hill Middle School, in Elkton, Md., another challenge she didn't expect to encounter has presented a particular hurdle.
"I get probably the greatest joy from standing with a group of kids and helping them realize something they didn't know before," she said. "But a lot of times the profession of teaching isn't especially respected, particularly at the elementary level. I love to learn and I always want to find out new things, and because I want to share that with others, teaching was a natural thing to do. But sometimes the response I hear is, 'If you're good at something, you should really go into a more prestigious field.' So there are times when pursuing what I want to do and know I'm good at has meant fighting stereotypes."
As a peer tutor and an ambassador for CHEP, Cipriani said she has plenty of opportunities to find others dedicated to education, however. And several opportunities during her UD career have broadened horizons, as well, including a semester abroad in Northern Ireland and the Republic of Ireland, where she took education and history courses.
Cipriani said that volunteer work with Habitat for Humanity and Christian Outreach to Appalachian People also have been valuable experiences, and for the past three spring breaks she has helped to build homes and work with communities in Harlan County, Kentucky.
"Reaching out to others is what really makes me happy," Cipriani said. "Everyone wants to be a part of the community, and that is what I try to encourage in the classroom and where I live."
Cipriani said that her immediate plans after graduation involve teaching for at least a year before pursuing graduate school, where she hopes to earn a doctoral degree that would enable her to teach college students. "Right now I'm not sure what field I'd choose," she said, "but it would probably be special education or math education, because at some point I would love to come to a university to teach other teachers."
Laura Glass, assistant professor of education, interim associate director of UD's School of Education and Cipriani's adviser, said that Cipriani models the best qualities of an effective educator.
"Carol's insatiable drive to learn new things amazes me," Glass said. "She seized numerous opportunities outside the University classroom to prepare herself for her future work in elementary or middle school classrooms, and, besides her stellar academic performance, she also is incredibly reflective and exhibits all of the qualities of being a leader in the field of education. Her deep care for children and warm personality will touch the lives of many families in her career."
Article by Becca Hutchinson
Photos by Kathy Atkinson