Talk on 'Science at Sea' slated for April 10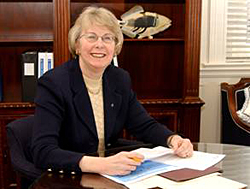 11:20 a.m., March 17, 2008--"Ships, Submersibles and Underwater Habitats: Diving into the Adventures of Science at Sea" is the title of a talk to be delivered by Nancy M. Targett, dean and professor in the College of Marine and Earth Studies at UD, at 4:30 p.m., Thursday, April 10, in the Reserve Room of the Morris Library. The presentation is the annual faculty lecture sponsored by the University of Delaware Library Associates.
Targett's lecture will focus on the multiple research platforms that scientists use to conduct work on the surface and under the sea and the unexpected adventures they sometimes encounter. Her presentation will include photographs of work being done from the UD research vessel, the R/V Hugh R. Sharp, the most advanced ship in the nation's fleet of research vessels.
The UD Library Associates will host a reception after the lecture. Both the lecture and reception are free and open to the public.
Interested individuals may request a printed invitation by calling the Office of the Director at (302) 831-2231 or by sending an e-mail to [libraryrsvp@winsor.lib.udel.edu].