Prof. O'Neill receives Saving Star award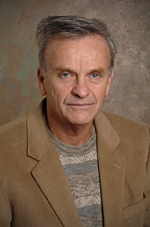 10:34 a.m., March 11, 2008--James O'Neill, professor of economics at UD, was named the First State Saves Saving Star at an awards ceremony in his honor at Barclay's in Wilmington, Del., Feb. 26.
O'Neill, who has directed the Center for Economic Education and Entrepreneurship (CEEE) in the Lerner College of Business and Economics since 1972 and leads the Delaware Council on Economic Education, was honored for his 36-year commitment to economic education in Delaware.
First State Saves [http://firststatesaves.org] is the local campaign of America Saves, a nationwide coalition of nonprofit, business and government organizations establishing ongoing local campaigns to encourage and assist Americans in lowering debt and saving for the future.
O'Neill was chosen as this year's Delaware recipient because he has devoted his career to providing educators with high-quality programs and workshops that increase the knowledge and understanding of economics and entrepreneurship in all curriculum for grades K-12. CEEE is nationally known for its hands-on economics teaching programs, seminars, workshops and materials for teachers of all grade levels. Its programs encourage students to recognize their financial choices, make well-informed decisions and use their knowledge of economics to improve basic skills.
Besides its teacher-training programs, CEEE sponsors a master of arts in economics and entrepreneurship educator program and the Stock Market Game for grades 4-12.
"Dr. O'Neill is known throughout Delaware and the nation for his tireless efforts to promote financial and economic education and is the perfect candidate to receive the First State Saves Saving Star Award," said Amy Loder, First State Saves program coordinator.
A letter from U.S. Treasurer Anna Escobedo Cabral lauding O'Neill's accomplishments was read at the ceremony and the Delaware House of Representatives issued a tribute honoring O'Neill.
This award was presented during the first annual celebration of First State Saves Week in Delaware, Feb. 24-March 3.
First State Saves, an offshoot of the national America Saves Campaign, encourages Delawareans to build wealth, not debt, through savings. The program encourages saving at a time when statistics show that people spend more than they earn.
For more information about First State Saves or to enroll in this free
program, visit [http://firststatesaves.org/].