UD celebrates 30-year tie with Salzburg Seminar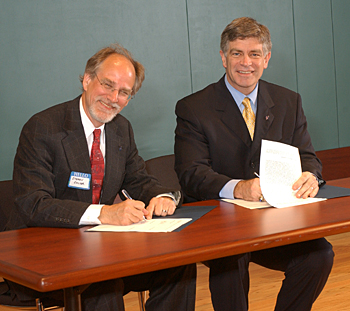 3:55 p.m., March 18, 2008--For more than 60 years, the Salzburg Global Seminar has been hosting weeklong discussions to try to find solutions to global problems. UD faculty and staff have participated for more than 30 years, and on Friday, March 14, at the Roselle Center for the Arts, Stephen L. Salyer, Salzburg Seminar president and CEO, and UD President Patrick Harker signed an agreement affirming and enhancing that long-term relationship.
"I am pleased to announce that this relationship will continue to flourish through this new century," Harker said. "We hope to establish new collaborative efforts in areas of research, teaching and service, and we plan to work together to find opportunities to support each others' strategic plans." Both UD and Salzburg are in the process of developing strategic plans.
After detailing the history of the UD/Salzburg collaboration, Harker introduced Salyer, who was the president and chief executive officer of Public Radio International before assuming the presidency of the Salzburg Seminar.
Salyer said he is impressed by UD's "intellectual capital" and would like to explore more significant ways of collaborating. "We're hoping by next year we can pick an issue that is of resonance and interest to both institutions and do something here at the University as a partnership activity." He suggested a colloquium once a year on an issue of special importance to the U.S.
When Salyer arrived on campus Friday morning, he took a short walking tour of the campus, had lunch at Vita Nova, the student run restaurant in the Trabant University Center, and then met with Salzburg Alumni at the Center for International Studies before attending the evening reception and signing ceremony.
The Salzburg Seminar is located in the Schloss Leopoldskron, a rococo palace in Salzburg, Austria. It is a nongovernmental institution that has identified and convened leaders on topics of international interest and concern since 1947.
Founded by three Harvard alumni and chartered in the U.S., it has gained a reputation as a venue where leading thinkers and activists from every continent examine topics of international importance in an intensive environment of study, discussion and solution testing. The seminar hosts extended, intensive week-long conversations about a wide range of vital issues.
UD has participated since 1977, when Arno Loessner, associate professor emeritus of urban affairs and public policy, became the first faculty member to attend the seminar. Today, Loessner coordinates UD's program that includes Salzburg fellowships for qualified nominees and is administered by the Center for International Studies. Four faculty members recently have been selected to attend Salzburg Seminars this year.
Over the years, nearly 60 faculty and professional staff have participated. Many have been invited back as Salzburg faculty to lead discussions on such topics as "China: The New Global Economic Engine," "Women, Political Power and Next Generation Leadership," The Transatlantic Divide: Myths, Realities and Business as Usual," "Immigration and Inclusion: Rethinking National Identity," and "Combating Climate Change at Local and Regional Levels: Sustainable Strategies, Renewable Energy."
Article by Barbara Garrison
Photo by Duane Perry