UD alum argues for redesign of the Internet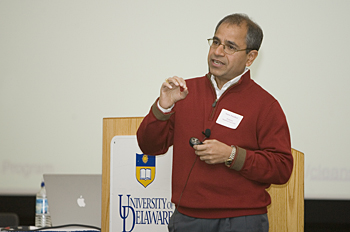 4:01 p.m., March 4, 2008--
Guru Parulkar, executive director of the
Clean Slate Internet Design Research Program
at Stanford University, thinks that now is the right time to reinvent the Internet.
Parulkar, who graduated from UD in 1987 with a doctorate in computer science, described a new initiative to redesign the Internet as part of his keynote speech, "A Case for Rethinking the Internet Architecture," on Feb. 22 in the Trabant University Center.
Speaking to an audience of more than 150 students, faculty, staff and computing science professionals, Parulkar's talk was part of the inaugural Computer Science Research Day sponsored by the Department of Computer and Information Sciences and a Provost's Graduate Improvement and Innovation Grant.
The event also included a panel discussion and a tour of the department's newly renovated research labs in Smith Hall, as well as a computer science "Jeopardy" game.
"The Internet has been wildly successful, and has been an important invention for the benefit of society, but its architecture is nearly 40 years old," Parulkar said. "In the years since its invention, new uses and abuses have pushed it into realms that its original design neither anticipated nor was able to easily accommodate."
In designing a new Internet, research issues include control management, addressing and naming the inter-domain routing, mobility of hosts and networks, economic viability of stakeholders and scaling of services," Parulkar said.
Another limitation of current Internet architecture, Parulkar said, is that it was not designed to absorb innovations, including scaling [increasing] of services.
"Google built one of the largest infrastructures in the world," Parulkar said. "Today, everyone has to build their own infrastructure. The problem is that to turn your idea into service, you have to integrate it into the current capability of the Internet architecture."
Parulkar said that the Clean Slate initiatives include creating a new Internet that would solve the Internet's current deficiencies and allow it to become a unified global communication infrastructure.
The proposed Clean Slate program will focus on unconventional, bold and long-term research that tries to break the network's ossification and overcome architectural limitations, including lack of security and mobility, Parulkar said.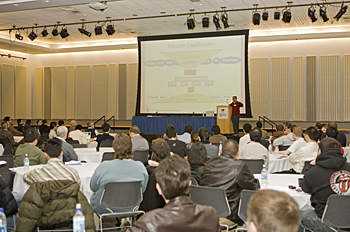 "We need to ask ourselves, with what we know today, if we were to start again with a clean slate, how would we design a global communications infrastructure," Parulkar said. "We also have to ask ourselves how the Internet should look in 15 years. We will measure our success in the long term. We intend to look back in 15 years time and see a significant impact as a result of our program."
Parulkar said that programs like Clean Slate and the Global Environment for Network Innovation (GENI), a national-scale facility for conducting networking and computer science research, have their supporters and opponents.
"These ideas are not universally admired. Some say they are too broad, and other say they are not broad enough," Parulkar said. "Maybe these views are a reflection of how the computer science community still does not know how to champion such multi-funding initiatives."
In recalling his days as a graduate student, Parulkar urged potential doctoral candidates to choose UD as the place to pursue their advanced academic goals while becoming part of the exciting potential of future research efforts.
"I got a great education at UD and I would encourage you to choose UD for graduate school," Parulkar said. "Our job is to enable you to build new structures. This is really an exciting time to be graduate students."
Before becoming director of Clean Slate, Parulkar served as an assistant professor at Washington University in St. Louis, where he and two colleagues designed and implemented a new type of communication system that permits Internet routers to step up and handle optical network speeds. The company, Growth Networks, was purchased by Cisco Systems in April 2000 for $335 million.
From 2003-2007, Parulkar worked on the GENI Initiative, community workshops and FIND (Future Internet Design), all at the National Science Foundation.
Article by Jerry Rhodes
Photos by Kathy F. Atkinson