Expert to discuss memorization vs. understanding March 10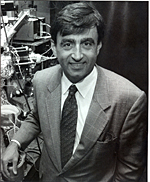 9:01 p.m., March 7, 2008--Eric Mazur, an internationally recognized expert in optical physics and in science education, will give a public lecture on "Memorization versus understanding: Are we teaching the right thing?" at 4 p.m., Monday, March 10, in 100 Wolf Hall.
The free public lecture is part of Mazur's visit to the campus as part of the Phi Beta Kappa Visiting Scholar Program. The Visiting Scholar Program makes distinguished scholars available to contribute to the intellectual life of a host campus through informal meetings and exchanges of ideas with the resident students and faculty and through public lectures.
Mazur, who is Balkanski Professor of Physics and Applied Physics at Harvard University, has made important contributions to spectroscopy, light scattering and the interaction of ultra-short laser pulses with materials. In addition to his work in optical physics, he devotes time to finding ways to improve science education. This research has led to the publication of Peer Instruction, a manual that offers methods for teaching large lecture classes interactively.
Recipient of the National Science Foundation Director's Award to Distinguished Teaching Scholars, he is a fellow of the American Physical Society and was chosen the society's Centennial Lecturer.
In addition to the Phi Beta Kappa lecture, Mazur will present two colloquium talks during his two-day visit:
"How the mind tricks us: visualizations and visual illusions," at 1:30 p.m., Monday, March 10, in 102 Gore Hall, and "Wrapping light around a hair," at 2 p.m., Tuesday, March 11, in 120 Smith Hall.
Mazur's visit is sponsored by the Alpha of Delaware Chapter of Phi Beta Kappa, the departments of Biological Sciences, Physics and Astronomy, and Psychology, and the Howard Hughes Biomedical Institute's Undergraduate Science Education Program.