UD geographer honored by Latvia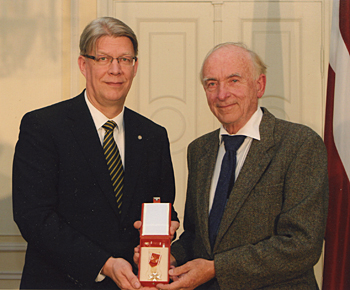 2:42 p.m., March 24, 2008--Edmunds Bunkse, UD professor of geography, was awarded the Cross of Recognition by the Latvian government in a ceremony in Riga, Latvia, in November.
Latvian President Valdis Zatlers presented Bunkse with the Cross of Recognition and Medal of Honor that is given for patriotism and achievement in bringing Latvia, its culture and history to the world. The motto on the cross reads, "For people of honor."
Bunkse said he felt a great sense of history when he learned he was awarded the cross. "It is a white Maltese cross that was created in 1710 for 40 knights who honorably served the Duchy of Kurland, now western Latvia. I was born a Kurs. My father was an officer in the first Latvian war of independence in 1918-20. I felt pride that after very hard and often passionate work, in some small way, I was continuing a family tradition of service," he said.
It was Bunkse's body of work and representation of Latvia in international forums that made him a candidate for the coveted cross.
"I've devoted my life to two countries, serving in the U.S. Army as well as teaching Jeffersonian democracy in Latvia. I've always worked to raise Latvian pride," he said.
Bunkse received his doctorate in geography from the University of California at Berkeley, joined the UD faculty in 1969 and is an adjunct professor of earth and geographical sciences at the University of Latvia.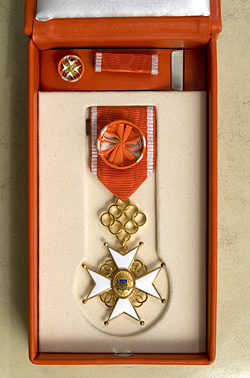 During the span of time Bunkse has served as a member of the UD and Latvian university faculties, he has frequently represented Latvia at international conferences, and, for eight years, he was the Lativan representative to the Permanent European Conference for the study of rural landscapes.
In 1990, he received a Fulbright Lectureship Award allowing him to teach in Latvia just as it was gaining its independence from the Soviet Union. "I was the first Fulbright scholar after Latvian independence, lecturing every night on Latvian history and the causes of ethnic tensions," he said.
From 1992-95, Bunkse was associate producer of a Latvian language prime time television program that examined the culture, art and history of nations around the world. He received an honorary degree from the University of Lativa in 1992 and was inducted into the Latvian Academy of Sciences in 1993. Bunkse has been a member of the Latvian Ministry of Education's Doctoral Habilitation Committee since 1996.
Article by Barbara Garrison