UD's Tsu-Wei Chou selected TMS fellow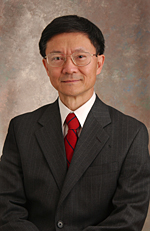 8:39 a.m., March 4, 2008--Tsu-Wei Chou, Pierre S. du Pont Chair of Engineering at the University of Delaware, has been elected a Fellow of The Minerals, Metals & Materials Society (TMS) for his influential contributions to the mechanics of nanocomposites and anisotropic heterogeneous materials.
Chou will receive the award at the 137th TMS annual meeting and exhibition scheduled March 9-14 in New Orleans.
The honorary class of Fellow is the highest honor bestowed by the society, and was established in 1962. Fellows are recognized as eminent authorities and contributors within the broad field of materials and the maximum number of living fellows is 100.
Chou will be inducted with Campbell Laird of the University of Pennsylvania, David E. Laughlin of Carnegie Mellon University and S. Lee Semiatin of the U.S. Air Force Research Laboratory.
Upon learning of his selection, Chou said, "The first journal paper in my professional career was published in Metallurgical Transactions of AIME. From my early days modeling the behavior of dislocations to my more recent study of nanostructured materials, I have always enjoyed attending AIME/TMS conferences."
TMS is a member society of the American Institute of Mining, Metallurgical and Petroleum Engineers (AIME).
He added, "Having worked in fiber composites based on ceramic, metal and polymer matrices, I have found that TMS can provide me with the broad and rich knowledge/information base for all of my studies. I treasure this award, particularly for the encouragement of TMS to my interdisciplinary approach to research."
TMS is the professional organization encompassing the entire range of materials science and engineering, from minerals processing and primary metals production to basic research and the advanced applications of materials. Included among its professional and student members are engineers, scientists, researchers, educators and administrators from more than 70 countries on six continents.
Chou is also a Fellow of five other professional societies: the American Society of Mechanical Engineers, American Institute of Aeronautics and Astronautics, American Society of Materials International, American Society for Composites and American Ceramic Society.
In 2001, Chou received the University's Francis Alison Award, the highest faculty award and one that recognizes scholarship, professional achievement and dedication.
Chou joined the UD faculty in 1969, after receiving a doctorate in materials science from Stanford University. He received a master's degree in materials science from Northwestern University and a bachelor's degree in civil engineering from National Taiwan University.