Symposium fuels new ideas for future UD energy research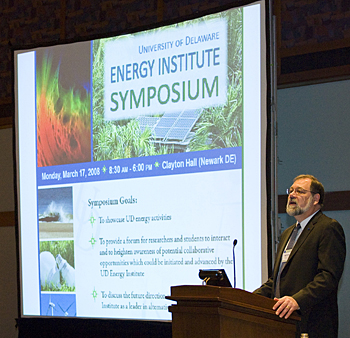 12:42 p.m., March 28, 2008--From a hydrogen fuel cell-powered bus to a solar-powered poultry house, the University of Delaware has a number of clean, green, "on the ground" initiatives under way in energy research and policy.
But there's room for much more.
That was the conclusion of a panel of UD experts assembled at a campus-wide symposium held March 17 at Clayton Hall Conference Center.
The event was designed to bring UD researchers together to share information on current projects and to spark potential collaborations that might be advanced by a new energy institute slated for development at UD. More than 170 participants, including UD students, faculty and staff, as well as representatives from government and industry heard lectures and discussion from local experts, and learned from more than 30 student poster presentations.
Mark Barteau, the Robert L. Pigford Chair of Chemical Engineering, coordinated the symposium, which was supported by the Unidel Foundation.
Leading off the symposium, Barteau, a member of the National Academy of Engineering and a participant in the recent Summit on America's Energy Future in Washington, D.C., quoted sobering statistics about the nation's energy future.
"Energy is, as the National Academy of Engineering declared, one of the grand challenges of our time," Barteau said. "And you can't look at the problem through any single prism to solve it," he noted. "It's much more complex than that."
World energy consumption has reached 400 quads per year, or 13.5 terrawatts. The United States uses about one quarter of that total. The majority of the petroleum we use is for transportation (more than 60 percent is imported), while coal-fired plants supply the largest portion of our electricity.
As world population grows, a tripling of energy use is predicted by the end of this century, with the additional challenge to decrease carbon dioxide emissions from current levels.
According to Barteau, a whopping 40-fold increase over today's renewable energy production would be required to meet those future needs.
"However, no single energy source or technology will solve our energy needs," he noted, adding that energy conservation and efficiency also are key. "Technology change is not enough--policy change is also essential."
Economics and the environment will force energy changes in the future, according to John Byrne, Distinguished Professor of Public Policy and director of UD's Center for Energy and Environmental Policy. Fossil fuel costs have risen 75 percent in the past five years, and 11 of the warmest years on record have occurred in the last 12 years.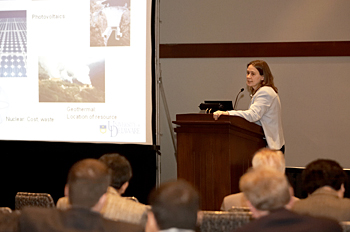 "We have to change our world. It cannot be business as usual," Byrne said.
"It can be done. Germany has added renewables faster than anyone in the world," he noted. "The U.S. has the opportunity to catch up if we can get the policy and technology sectors to work in tandem."
William D. Provine, global technology manager for DuPont Biofuels, and a UD alumnus, reported on the promise of biofuels and the company's research to turn corn stover into butanol. Jeff Gordon's racecar was driven around a DuPont experiment station on 20 percent butanol fuel, Provine said.
One hundred scientists at DuPont are working on the development of biobutanol via synthetic pathways, offering opportunities for collaboration with UD, he noted.
Robert Birkmire, professor of materials science and engineering and director of UD's Institute of Energy Conversion (IEC), and Christiana Honsberg, associate professor of electrical and computer engineering, reported on solar research.
IEC conducts fundamental research on advanced thin-film photovoltaics, as well as manufacturing-scale projects. The institute, founded in 1972, involves researchers from physics, chemistry, materials science, chemical and electrical engineering to develop new technologies.
UD, through IEC's efforts, currently leads the nation's universities in competitive funding awarded by the U.S. Department of Energy's Solar America Initiative. Among the projects, IEC researchers are developing flexible, copper-indium-gallium-diselenide (CIGS) solar cells and roll-to-roll technology for manufacturing these flexible solar cells in long sheets, for potential use on roofs, spacecraft and other applications.
Honsberg and Allen Barnett, UD professor of electrical and computer engineering, are leading the Consortium for Very High Efficiency Solar Cells, comprising 15 universities, corporations and labs funded primarily by the Defense Advanced Research Projects Agency (DARPA). Their goal is to more than double the efficiency of terrestrial solar cells. By incorporating optics into solar cell devices, this project has achieved 42.9 percent conversion efficiency in 18 months
Honsberg also directs the NSF Integrative Graduate Education and Research Training (IGERT) program in Solar Hydrogen, which supports graduate student researchers in a number of departments across the University.
Robin Morgan, professor and dean of the College of Agriculture and Natural Resources, reported on a first-of-its-kind solar-powered poultry house, initiated last year as a demonstration project at a Laurel, Del., farm owned by Allen Family Foods Inc., through a partnership between Allen Family Foods, WorldWater & Power Group, GE Energy, UD, the Delaware Department of Agriculture and the Delaware Department of Natural Resources and Environmental Control.
Delmarva's economy depends on the viability of the poultry industry, with 2,000 growers, 5,500 chicken houses, 133 million chickens and an industry estimated at $1.6 billion annually.
In the first year of operation, the system showed a savings of 56,000 kilowatt hours, or $7,500, and has demonstrated the technical feasibility required for all growers applying for U.S. Rural Development Grants, Morgan said.
Willett Kempton, associate professor of marine policy, said a consensus is developing that 80 percent reduction in carbon dioxide emissions will be required by 2050 to stop climate change, and 10 percent of Delaware "will get off carbon in two years of construction time" if Delaware approves a proposed wind farm off Rehoboth Beach.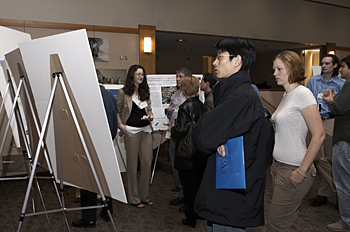 Kempton, who was the recipient of one of Google.org's first RechargeIT grants, is working with UD faculty in engineering and business administration on a
vehicle-to-grid (V2G) project
to test a prototype vehicle that runs solely on electricity and can generate revenue by storing and then providing electricity from its car battery back to utilities.
In highlighting research on novel materials, George Hadjipanayis, Richard B. Murray Professor of Physics and Astronomy, reminded the audience that magnets are "found everywhere," in electrical appliances and automobiles to magnetic levitation trains. Nanocomposites can double the energy product of the best magnets today, he said, leading to increased efficiency of the devices that use them.
John Xiao, professor of physics and astronomy and director of UD's Center for Spintronics and Biodetection, noted that electric motors waste 10-20 percent of all electricity converted to mechanical energy. He illustrated how new nanostructured materials, from supercapacitors to low-dissipative spintronic materials, could offer important energy-conserving alternatives.
Ajay Prasad, professor of mechanical engineering and principal investigator on UD's hydrogen fuel cell hybrid bus project, supported by the U.S. Department of Transportation and the Delaware Department of Natural Resources and Environmental Control, said the fuel cell bus transports an average of 100 students per day. A second bus, due this summer, will have a dual stack and advanced Li-Titanate batteries. A third, larger bus is scheduled for delivery next spring.
Prasad pointed out major challenges facing researchers, including the current lack of H2 infrastructure and high material costs such as $1,400 of platinum for a single vehicle fuel cell. On the bright side, fuel cells are far more efficient that typical gasoline or diesel engines and produce zero emissions. Efforts are under way to improve the performance and durability of fuel cells and to find novel ways to produce hydrogen using renewable sources such as sunlight, he said.
Jingguang Chen, Claire D. LeClaire Professor of Chemical Engineering and former director of UD's Center for Catalytic Science and Technology, noted that solar and fuel cells will "be put together" in the future, which will require new expertise in electrochemistry, fuel cells and batteries, with teams of faculty working together.
A roundtable discussion identified critical needs for future UD energy research, including expertise in petroleum, coal and natural gas, the recovery of energy lost in present-day applications, energy storage in batteries and improved public and UD student education, focusing on enhancing literacy in science, technology, and policy.
Participation by UD life scientists also is important in energy research, with a focus on plant photosynthetic processes. Social scientists also are needed to help people embrace a greater conservation ethic and adapt to a changing world, the group concluded.
Additional information about energy research at the University of Delaware, including downloadable files of the symposium presentations, can be found at [www.energy.udel.edu].
Article by Tracey Bryant
Photos by Kevin Quinlan and Kathy Atkinson