Gamel-McCormick named interim dean of CHEP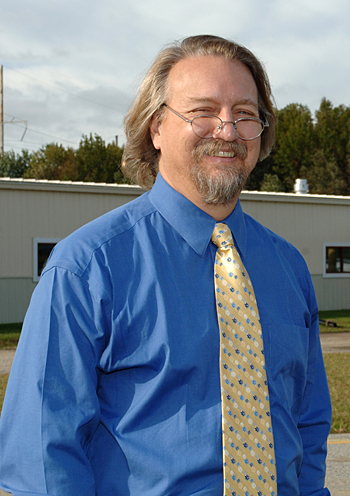 11:24 a.m., March 20, 2008--Michael Gamel-McCormick, professor of individual and family studies, interim chairperson of the Department of Individual and Family Studies and director of the Center for Disabilities Studies, has been named interim dean of the University of Delaware's College of Human Services, Education and Public Policy (CHEP), Provost Dan Rich has announced. His appointment is effective July 1.
Gamel-McCormick will replace Timothy K. Barnekov, who announced in August 2007, that he will retire at the end of the current academic year.
"I am very pleased that Michael Gamel-McCormick has agreed to serve as interim dean," Rich said. "As professor of individual and family studies and director of the Center for Disabilities Studies, Michael has served CHEP and the University with distinction. He is recognized across campus for promoting important interdisciplinary collaborations, including those at the Early Learning Center. He is respected across the state and at the national level for his expertise in the areas of early childhood development, special education and disabilities services."
"This is an exciting time for this vital college," Gamel-McCormick said. "Whether the topic is education, the environment, human and family development, community sustainability, or many other areas, the college addresses the critical issues of our times. One of the great strengths of CHEP is its interdisciplinary capacity and the strong applied nature of the work of its scholars. I am honored to be working with all of the academic departments and the centers of the college for this interim period and look forward to serving my colleagues and the University."
Rich said that, after consultation with the CHEP dean search committee, which began its work last summer, he decided that the search should be closed and that an interim dean should be appointed. A decision on a new search will be made sometime during the 2008-09 academic year.
To replace Gamel-McCormick, a new acting chairperson will be appointed to lead the Department of Individual and Family Studies.
Gamel-McCormick received bachelor's degrees in child development and psychology from the University of Delaware. He received a master's degree in counseling from the University of Wisconsin Madison and a doctorate in education and human development from Virginia Commonwealth University.
Gamel-McCormick joined the faculty at UD in 1995. He was appointed director of the Center for Disabilities Studies in 2001.
He conducts research focusing on the quality of early care and education programs, families from lower socio-economic backgrounds and their perceptions of early intervention services, and families of children with disabilities. Also, he conducts research regarding the preparation of teachers and professionals to work with young children with disabilities.
As director of the Center for Disability Studies, Gamel-McCormick collaborates on issues of early childhood services for children with and without disabilities, families and disabilities, the use of technology by individuals with disabilities, and the impact of disabilities on service delivery systems.
He teaches graduate and undergraduate courses in early childhood and early childhood special education, in disabilities across the life span and their impact on families, and in technology and its use with very young children with disabilities.
Honored for his work in the classroom, Gamel-McCormick has won departmental awards for outstanding work in both undergraduate and graduate education and in 1999 received a University-wide Excellence in Teaching Award.
He has written numerous articles and papers, and is co-author of the book Young Children with Special Needs: A Developmentally Appropriate Approach (1998, Allyn & Bacon).
Gamel-McCormick is president-elect of the Association of University Center on Disabilities and chairperson of the organization's national conference. He will serve as president next year.
He is a member of the Council for Exceptional Children, the National Association for the Education of Young Children and TASH (formerly the Association for Persons with Severe Handicaps).
Also, he has served on the Vision 2015 Task Force, which is charting a course for the future of education in the state, the Delaware Early Care and Education Council, the Governor's Infant Mortality Task Force and the Governor's Commission on Community-Based Alternatives for Adults with Disabilities.
CHEP has undergraduate and graduate programs across three departments and two schools: the Department of Fashion and Apparel Studies, the Department of Hotel, Restaurant and Institutional Management, the Department of Individual and Family Studies, the School of Education and the School of Urban Affairs and Public Policy.
The college also is home to 12 research and public service centers.
CHEP enrollment is 1,852 undergraduates and 671 graduate students.
Article by Neil Thomas
Photo by Kathy Atkinson