Undergrads sharpen research poster presentations before national conference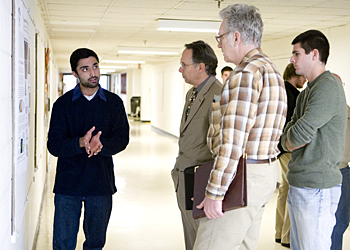 4:48 p.m., March 24, 2008--The Howard Hughes Medical Institute (HHMI) Undergraduate Science Education Program held a practice research poster session in McKinly Lab on March 18, for 16 undergraduate research students who will attend the 2008 Experimental Biology Meetings, April 5-9, in San Diego.
Nine of the 16 students have entered their research posters in the chemistry/biochemistry and molecular biology competitions and will have to defend their research to judges who are experts in each discipline.
Mock poster sessions are held several times a year at UD to give undergraduates in many majors a feel for what it will be like to compete at the national level and to have their posters critiqued so they can be improved before they get to nationals.
The group whose posters were critiqued are biological sciences and chemistry and biochemistry students whose research is funded mainly by the HHMI program.
The practice sessions must be working, according to Harold White, HHMI program director and professor of biochemistry, because since UD began competing in Experimental Biology Meetings poster sessions seven years ago, UD students have won top honors six out of the seven years. "Our undergraduates who have competed in the chemistry and biochemistry and molecular biology poster sessions have won more awards at the Experimental Biology Meetings than any other school in the U.S.," White said.
In fact, this year, White said, one of UD's undergrads, Vivek Desai, was selected to make an oral presentation at the meeting about his research identifying a protein that acts as a marker indicating secondary cataracts. Melinda Duncan, associate professor of biological sciences, is Desai's faculty mentor. White said that it is extremely rare that an undergraduate student's work is chosen for presentation.
A senior majoring in biological sciences and philosophy, Desai said the poster sessions are helpful. "I get feedback from professors as to what I should change and on questions I can anticipate from judges."
Mark Sausen, a junior biology major, agreed that the mock poster sessions give students a chance to work on explaining their research in layman's terms. Sausen's research examines the effect of exercise on people with hypertension.
HHMI students attending the meeting in San Diego and their research projects include:
Tyler Bazzoli, "Identifying Biomarkers of the Mhc Gene to Investigate Chemosensory Discrimination";
Aly Bourreza, "Evaluating Anti-Androgen Resistance by In-Vitro Selection";
Owen Brady, "Modeling Tumor Development: The Role of L1";
Stephanie Culver, "The Effects of Cell Surface NgCAM Expression on Developing Chick Brain Axons In Vitro";
Vivek Desai, "CD44 and Posterior Capsular Opacification";
Carolyn Dominica, "The Role of N-glycosylation in Drosophila Development: Characterization of Alg10";
Stephanie Dreher, "Bulk Material Properties of _-Bulge Peptide Hydrogels For Tissue Engineering";
Nicole Gentile, "Phenotypic Characterization of the 7H24 Mutant in O-xylosyltransferase";
Brian Grindel, "Regulation and Expression of ERp57 in Hepatocellular Carcinoma";
Andrew Harmon, "Investigating Human and Drosophila Sprinter Function";
Patrick Knerr, "Metal-Triggered Hydrogelation of Self-Assembling _-Hairpin Peptides for Bioremediation";
Gregory Madden, "Parathyroid Hormone (PTH) Mediated Shear-Induced Actin Organization and Mechanosensitivity Via Ras Homologous A (RhoA) GTPas in Osteoblasts";
Krista Neal, "Identification of Residues in SV40 Large Tumor Antigen Important for DNA Replication and Topoisomerase I Binding";
Mark Sausen, "The Exercise Pressor Reflex in Hypertensive Humans";
Sergey Sulima, "Expression and Characterization of Loop- and Helix-forming Epitopes of Measles Virus Hemagglutinin in Plants"; and
Melissa Warriner, "Gene Repair in Sub-S phase Cell Populations and Cell Cycle: Response to Quadruplex Oligonucleotides".
For more information, go to [http://www.udel.edu/chem/white/HHMI3/EB2008/SD08.html].
Article by Barbara Garrison
Photo by Tyler Jacobson