Delaware Hall of Fame inducts Jim Sherman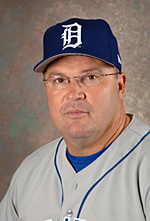 1:53 p.m., June 13, 2008--University of Delaware baseball Head Coach Jim Sherman has been inducted into the Delaware Baseball Hall of Fame. Sherman, who has been at the helm of the Blue Hen baseball program since 2001, was honored during ceremonies at Frawley Stadium in Wilmington for his lifelong service to baseball in Delaware.
After serving under UD's longtime coach Bob Hannah for six seasons, during which the Fightin' Blue Hens won five America East Conference championships, Sherman took the reigns in 2001 and led the team to another conference title.
Since the move to the Colonial Athletic Association, Sherman has guided Delaware to four 30-win campaigns. In 2007, he led the Blue Hens to a 32-23 record and a share of the regular season conference championship. After garnering the CAA Coach of the Year award, he helped the squad finish as the runner-up in the postseason tournament.
In eight years as head coach, Sherman has posted a 245-202 record and currently has the second most wins in Blue Hen history.
Prior to coaching at Delaware, Sherman was a standout player for the Blue Hens. From 1979 through 1982, the right-handed slugger hit .347 with 46 home runs and 227 runs batted in. One of only four players in program history to earn all-conference honors during each of his four seasons, he still ranks second all-time in RBI, third in home runs and fifth with 261 career hits.
Following his collegiate career, Sherman spent five years in the Houston Astros organization, reaching the AAA level. Viewed as one of the team's top power-hitting prospects, he was on the 40-man roster for one season and participated in the major league spring training camp for two years.
After leaving professional baseball, Sherman took over as the head baseball coach for Wilmington University and led the Wildcats to six District 19 championships and the NAIA World Series in 1992 and 1994.
A graduate of William Penn High School and native of New Castle, Del., Sherman was one of four inductees this year. He joined Bob Gildea, Mel Gardner and Joe McDonald.
For more information on UD athletics, see [www.udel.edu/sportsinfo].