Two new named professors appointed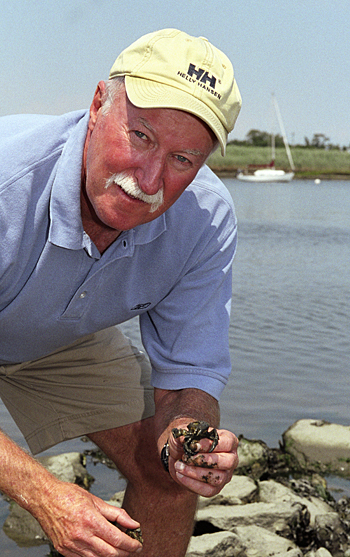 2:59 p.m., June 26, 2008--Charles Epifanio and Lee Anderson have been appointed Maxwell P. and Mildred H. Harrington Professors of Marine Studies, Provost Dan Rich has announced. Both appointments are effective July 1.
"It is a pleasure to appoint these two outstanding faculty members to named professorships," Rich said. "Dr. Epifanio and Dr. Anderson both have had long and distinguished careers in the College of Marine and Earth Studies. They are internationally recognized scholars who excel as graduate student advisers and who have extensive records of achievement in public service."
Charles Epifanio
An associate dean and professor of marine biosciences in the College of Marine and Earth Studies, Epifanio's research focuses on the biology of marine larvae and early juveniles. The physical and biological factors that drive year-to-year variations in populations of ecologically and commercially important fish and crustaceans are also a focus of Epifanio's work, which involves a combination of field observation, laboratory experimentation and mathematical modeling.
Current projects include the transport of blue crab larvae in buoyancy-driven coastal circulation, the role of biofilms and chemical cues in the induction of settlement and metamorphosis of crab larvae. Additional projects include the ecology of non-indigenous crab species in the Middle Atlantic Bight and the early life history of the Florida stone crab.
The first recipient of the UD Outstanding Graduate Student Mentoring and Advising Award, Epifanio has a record of excellence in teaching, having taught courses in marine biology and biological oceanography. Epifanio has advised more than 50 students in obtaining their graduate degrees.
In addition, Epifanio serves as associate director of the UD Sea Grant College Program, administrating the research activities of Delaware Sea Grant. He also is on the board of trustees of the Delaware Museum of Natural History in Wilmington.
A member of the college's faculty since 1971, Epifanio has published more than 100 peer-reviewed articles. He earned his doctorate in zoology from Duke University and his bachelor's degree in biology from Lafayette College.
Lee Anderson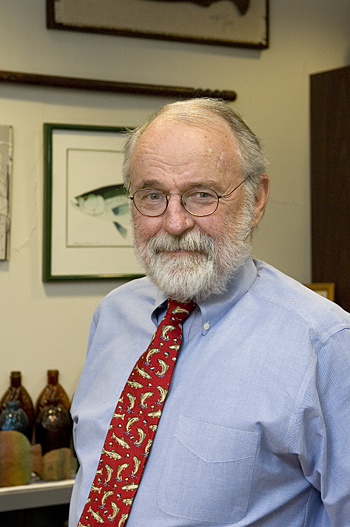 Anderson is a professor of marine studies, with interests in fisheries economics and management, individual transferable quotas and fisheries simulation models. Current projects include the effects of implementation and operation of individual transferable quota regimes in fisheries management and fisheries simulation models.
As the recipient of the International Institute of Fisheries Economics and Trade's 2006 Distinguished Service Award, Anderson was cited for his contributions to the theory and practice of fisheries economics.
The award also recognized Anderson's efforts to promote a worldwide exchange of perspectives and information on fisheries issues, as well as his contributions as an author of textbooks used in the worldwide study of fisheries economics.
Books by Anderson include The Economics of Fisheries Management (1976 and 1985); Economic Analysis of Fisheries Management; and Fisheries Economics: Collected Essays, Volumes I and II. Anderson also is the author of many journal articles on various aspects of the economics of fisheries management.
Anderson, who works with the Office of Policy of the National Fisheries Services on a regular basis, received his bachelor's degree in economics in 1966 from Brigham Young University, and his doctorate in economics from the University of Washington.
Maxwell P. and Mildred H. Harrington
The professorship honors Maxwell P. and Mildred H. Harrington, Delaware natives with a special love for the coast. Mr. Harrington graduated from Delaware in 1950 with a bachelor's degree in civil engineering. He worked for the federal government in marine sciences for several years and served as an engineer at Camp Lejeune, the U.S. Marine Corps base in Jacksonville, N.C. After Mr. Harrington's death in 1983, Mrs. Harrington continued to support the College of Marine and Earth Studies as a marine associate. In 1988, she donated to UD an extensive seashell collection amassed during their travels.
Article by Jerry Rhodes
Photos by Bob Bowden and Kathy F. Atkinson