Iodine helps kelp fight free radicals and may aid humans, too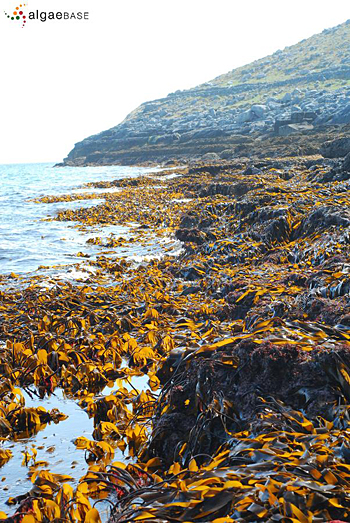 10:38 a.m., June 17, 2008--When human cells are attacked by free radicals, the antioxidant vitamins and minerals in the food we've eaten come to our defense.
However, when brown kelp (Laminaria), a kind of seaweed, is stressed, the plant flushes large quantities of iodide as a powerful antioxidant out of its cells, which combines with highly reactive oxygen in the water and air to produce molecular iodine, which commonly is used in hospital surgeries as an antiseptic. In fact, the process can generate clouds of iodine near the ocean surface that can ward off the damaging effects of ozone, thus affecting coastal climate.
The findings, made by an international team of scientists from the United Kingdom, Germany, United States, Switzerland, France and the Netherlands, reveal iodine's biological role as an inorganic antioxidant--the first to be described in a living system--and also point to the intriguing effects of iodine in scavenging free radicals in human blood cells.
The research, published last month in the Proceedings of the National Academy of Sciences, the scientific journal of the National Academy of Sciences in the U.S., was led by Frithjof Kupper from the Scottish Association for Marine Science. George Luther, the Maxwell P. and Mildred H. Harrington Professor of Oceanography at the University of Delaware, and UD alumnus Timothy Waite were part of the research team, conducting a series of chemical analyses for the study in Luther's lab at the UD College of Marine and Earth Studies in Lewes.
Brown kelp is a species of marine algae. It contains algin, a common emulsifying agent used in products ranging from pudding to paint, beer to make-up.
Now scientists have determined that brown kelp, which boasts the highest concentration of iodide of any plant or animal, passively takes in this element from seawater and then releases it when needed to detoxify harmful reactive oxygen species, which are generated by such external forces as pollution and intense light, as well as by internal metabolic processes.
"It's only one atom and it's charged. It's the simplest antioxidant you could possibly find," Luther notes.
Although there are relatively small amounts of iodide in seawater compared to chloride and bromide, brown kelp has the ability to concentrate the element in its interstitial fluids, the liquids that bathe and surround the plant cells.
"Brown kelp has 1,000 times more iodine than what is in the sea, and it is always taking it on," Luther says.
"When the kelp is exposed to stress, it dumps the iodide, which is easily converted into molecular iodine," he explains. "Molecular iodine goes into the atmosphere, where it helps form clouds that decrease the heat from the sun. It's one way of getting rid of ozone close to the ocean surface," Luther says.
At UD's Lewes campus, Luther and Waite measured the electrochemistry of iodide--the transfer of electrons between molecules--in brown kelp using a mercury-drop method Luther invented more than 20 years ago.
Iodine is an important element for thyroid function in humans. Since medieval times, these brown seaweeds have been used to treat goiter, an enlargement of the thyroid gland caused by a lack of iodine.
Additional studies by the research team suggest that iodine may play an important role in fending off human health threats presented by free radicals.
Currently, research is under way by scientists around the globe to assess iodine's impact on maladies ranging from thyroid disease to breast cancer, Luther says.
The scientists contributing to the study were from the Scottish Association for Marine Science, the University of York, and the University of Manchester, United Kingdom; Universitat Konstanz and the European Molecular Biology Laboratory, Germany; University of California, Santa Barbara, and University of Delaware, U.S.; Institut Thurgau and Paul Scherrer Institute, Switzerland; Université Pierre et Marie Curie, France; and Radboud University, The Netherlands.
Article by Tracey Bryant