Prof. Epps selected to attend NAE 'Frontiers of Engineering' symposium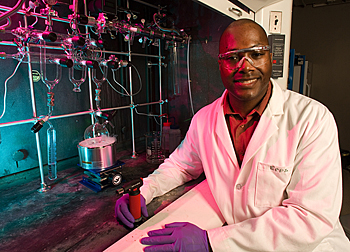 10:45 a.m., June 24, 2008--
Thomas H. Epps III, an assistant professor in UD's Department of Chemical Engineering, is among 82 of the nation's brightest young engineers selected to attend the National Academy of Engineering's (NAE) 14th annual United States Frontiers of Engineering symposium, set to run this year from Sept. 18-20 in Albuquerque, N.M.
Epps, who was nominated to attend the symposium by T.W. Fraser Russell, A.P. Colburn Professor of Chemical Engineering at UD, said that the opportunity will give him a chance both to interact with fellow engineers from different fields and learn from experts invited to lecture at the event.
"For the engineers chosen to attend, the symposium offers an opportunity to learn from the speakers what some of the different challenges are that need to be overcome in different areas of research," Russell said. "It also provides some of the leading young researchers from multiple disciplines the opportunity to network with each other so that we can start collaborative projects to work on long-term solutions to some of today's problems, whether they be infrastructure-related, energy-related or medically related."
Epps said that he believes he was selected for the honor because of strides he has made in his own field of specialty, block copolymer systems, and also because of the leadership role he has taken in the National Science Foundation-sponsored Research Experiences for Undergraduates (REU) program that takes place at UD each summer.
"I think that one thing I bring to the table is my focus on soft nanomaterials, which are applicable to energy-related research, as well as biomedical engineering and data storage applications." said Epps. "Additionally, I'm one of two directors of the energy and sustainability REU program that brings some of the top undergraduates from other institutions to UD each summer."
Norman J. Wagner, chairperson of UD's Department of Chemical Engineering and the Alvin B. and Julia O. Stiles Professor of Chemical Engineering, said that the honor of Epps being selected by the NAE to attend the symposium speaks for the caliber of his scholarship, both in and out of the classroom. He added the selection of Epps for such a prestigious honor is an asset to the department, as well as to the University.
"The selection of Assistant Professor Thomas Epps III for the NAE Frontiers of Engineering conference is in recognition of the excellence of Thomas' emerging research program, as well as for the promise of innovative engineering achievements to come from Thomas and his students," Wagner said. "The chemical engineering community at UD is proud of the achievements of Thomas, along with the rest of our young faculty as they pioneer innovative research projects of both engineering and societal relevance. This honor also brings national recognition to UD's College of Engineering as a leader in technology advancement."
The two-and-a-half-day event will bring together engineers ages 30-45 who have come to the notice of the NAE for performing exceptional engineering research and technical work in a variety of disciplines. The participants, who work in academia, government and corporate industries, were nominated by fellow engineers or organizations and were chosen from more than 230 applicants.
Epps, who joined the University in June 2006, cites his four main areas of research interest as generating network nanostructures in high molecular weight and ion-conducting block copolymer systems; stabilizing triply-periodic (network) structures in ultrathin polymer films; synthesizing novel block copolymer structures in microfluidic devices; and creating thermally reversible, co-continuous microstructured materials using polymer blends.
He earned his bachelor's and master's degrees from Massachusetts Institute of Technology and his doctoral degree from the University of Minnesota. He completed his postdoctoral work as a National Research Council Postdoctoral Fellow at the National Institute of Standards and Technology in Gaithersburg, Md.
This year's symposium, which will be hosted by Sandia National Laboratories at the University of New Mexico in Albuquerque, will examine emerging nanoelectric devices, cognitive engineering, drug delivery systems and the proliferation of weapons of mass destruction. A featured speaker will be Alton D. Romig Jr., senior vice president and deputy director for integrated technologies and systems at Sandia National Laboratories, and following each lecture, there will be substantial time devoted to open discussions.
Additionally, breakout and poster sessions will offer opportunities for participants to engage in informal discussions about their work. After the symposium, as well, an NAE alumni program additionally supports continuing contact among symposium participants.
Article by Becca Hutchinson
Photo by Kathy F. Atkinson