UD delegation builds partnerships with universities in China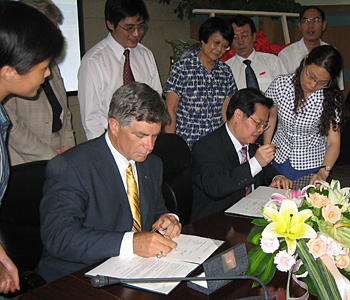 5:35 p.m., June 30, 2008--The University of Delaware has established the Joint Institute for Coastal Research and Management, a world-class global collaborative research initiative, with China's Xiamen University (XMU). The institute was officially opened on Saturday, June 27, during a ribbon-cutting ceremony that was witnessed by a UD delegation that is visiting China this week.
"The institute will take an international perspective in establishing global coastal research, policy and science education partnerships to address the shared resource issues that are common to coastal areas worldwide," said Nancy M. Targett, dean and professor in the College of Marine and Earth Studies who cosigned an agreement to establish the institute with Dean Minhan Dai, director and Cheung Kong Chair Professor of Marine Biogeochemistry at XMU's State Key Laboratory of Marine Environmental Science.
The UD delegation includes President Patrick Harker; Havidán Rodríguez, vice provost for academic affairs and international programs; Tom Apple, dean of the College of Arts and Sciences; Lesa Griffiths, director of the Center for International Studies; Nancy M. Targett, dean of the College of Marine and Earth Studies; Xiao-Hai Yan, Mary A. S. Lighthipe Professor of Marine and Earth Studies; and John Xiao, professor of physics and astronomy.
During the two-day visit to XMU, Harker and Xiamen University President Chongshi Zhu re-signed a general institutional agreement, which was first signed during fall 2007, to foster and encourage the growth and development of self-sustaining and mutually beneficial academic and research collaborations between UD and XMU.
The UD delegation and XMU officials held meetings and discussions aimed at expanding and strengthening the existing partnership in several areas, including joint research initiatives, faculty and student exchange and study abroad.
XMU, one of the leading and most prestigious comprehensive institutions in China, is well-known for excellent programs in oceanography and environment, chemistry and chemical engineering, and a number of areas in the life sciences and the social sciences. The university, which has 34,000 students, 4,600 faculty and staff, is also known as the "cradle of marine sciences" in China. Like UD in the United States, XMU is recognized as having one of the most beautiful campuses in the country.
During the two-day visit to Xiamen University, the UD delegation visited XMU's Zhangzhou Campus and the National Institute of Diagnostics and Vaccine Development in Infectious Diseases and met with a XMU administrators and faculty from the School of Management, the School of Chemistry and Chemical Engineering, the School of Material Science and the College of Oceanography and Environmental Science. The delegation also met with representatives from the Office of International Cooperation and Exchange to discuss the possibility of developing a Confucius Institute between the two institutions.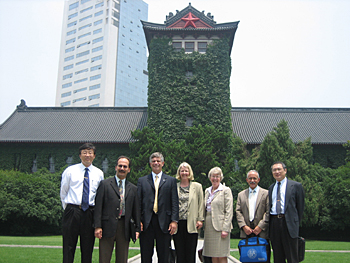 Nanjing University
After the visit to XMU, the UD delegation traveled north to Nanjing to visit Nanjing University (NU), with which UD signed an institutional agreement in 2005. NU is a highly selective institution and one of the leading institutions of higher education in China with an undergraduate enrollment of about 12,600 students and more than 11,500 graduate students. It is known for its academic programs in physics, chemistry, geographic and oceanographic sciences, the life sciences, Earth sciences and the social sciences.
The delegation met with NU administrators, faculty and students in the School of Geographic and Oceanographic Sciences, the Center for Management of Social Risk and Public Crisis in the School of Public Management, the School of Chemistry and Chemical Engineering, the Department of Physics, the School of Business and the Institute for International Students.
"Nanjing University is one of the premier universities in China, and UD and Nanjing have many areas of common interest that can foster collaboration," Apple said. "Our discussions with the chemistry and physics departments were very fruitful and will very likely lead to new opportunities for faculty and student exchange in the areas of spintronics and energy-related research. I hope that our discussions will also result in new models of collaboration on graduate research, including accelerated programs and doctoral programs involving significant relationships between partner institutions in the training of graduate students."
The UD delegation is traveling to Shanghai to visit Shanghai Jiao Tong University and East China Normal University.
Article and photo by Havidán Rodríguez