Rapid response and AED saved prof's life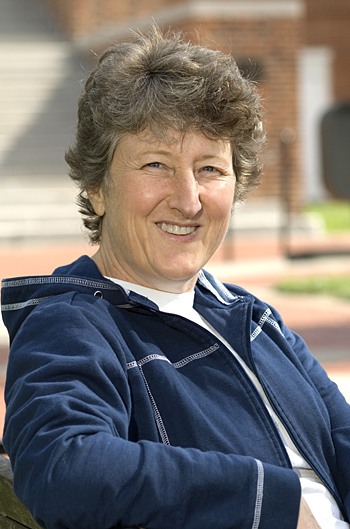 3:10 p.m., June 4, 2008--Earlier this spring at the unlikely venue of UD's annual Wellness Fair, Vicki Cassman, assistant professor of art conservation at UD, was overcome by feelings of tightness in her chest and extreme fatigue before she lost consciousness and crumpled in a chair without a pulse.
That crushing exhaustion likely would have been the last sensation Cassman experienced had it not been for quick action on the parts of fellow UD employee, Cathy Lynne Ciolek, associate director in UD's Department of Physical Therapy, and UD students Jamie Hartnett and Katie Clements, both doctoral candidates in physical therapy. But even beyond the fast response of Ciolek, Hartnett and Clements and the quick CPR performed by two medical professionals from Christiana Care who happened to be staffing a table nearby, it was ultimately the ready accessibility of an automated external defibrillator (AED) device that saved Cassman's life.
"I had woken up that morning with tightness in my chest, and about a minute before I lost consciousness, I had a feeling of tremendous fatigue," said Cassman, 51, "but other than that, there wasn't a lot of warning. I had a cup of tea, which made the tightness go away, and I walked to work, and as I passed the Trabant University Center, I decided to visit the Wellness Fair."
Cassman's first stop was the blood pressure screening table, where she got an abnormal reading; but she said she continued with a few other tests--vision, osteoporosis--before it occurred to her to get another blood pressure reading. She returned to the table and that's the last she remembers of the day until she regained consciousness in the emergency room.
"[Cassman] was having her blood pressure taken by a student of mine, when I looked over and noticed a look of panic cross her face," said Ciolek, who, along with Clements, was staffing a nearby table. "I immediately knew that something was wrong, and so I sent Katie in search of an AED."
Because part of the training for physical therapy students is to know how to identify and use AEDs, Clements quickly found what she was looking for in a nook in the wall just outside the Multipurpose Rooms, and within minutes of its retrieval, Ciolek had used the device to shock Cassman's heart back into action.
"The incident was really a team effort," Ciolek said. "The CPR performed on Cassman by the two Christiana Care employees [Kathy Sullivan, a nurse-practicioner, and F. Todd Harad, a vascular surgeon] was immediate, and the quick accessibility of the AED saved critical minutes."
Hartnett, who was the person taking Cassman's blood pressure the second time, recalls the incident as frightening, but surprisingly orderly, given its dire nature. "I'd just taken the cuff off [Cassman's] arm, when I looked over and noticed that her head had dropped down," she said. "When I tried rousing her and didn't get a response, I went and got the two medical professionals from Christiana Care and called 911."
An ambulance from UDís Emergency Care Unit was the first trauma transport vehicle to arrive. The student-run emergency services's ambulance got to the Trabant University Center within one minute of the 911 dispatch, according to Jeff Sands, a junior from Marblehead, Mass., who is director of equipment.

The Emergency Care Unit, comprised of about 40 undergraduate students at UD, provides ambulance service to the campus and surrounding community, and on the morning of the Wellness Fair the operating crew that responded to the dispatch included Steven Dudley, a senior from Darnestown, Md., and Tom Merring, a senior from Hockessin, Del.
Cassman, who won the door prize that day (a basket filled with personal care products), jokes that she thinks the drawing was rigged; but she says on a more serious note that she "really did win the door prize.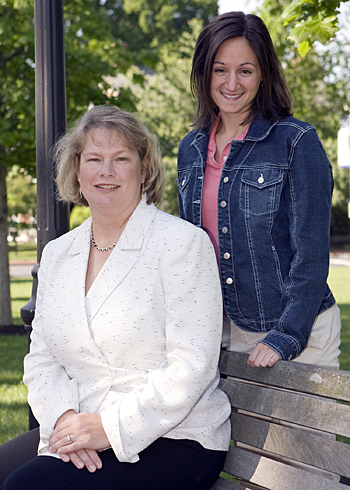 "I am the last person this would happen to," she said, adding that she thought the tightness in her chest that morning was a reaction to a new vitamin regimen. "I get ribbed at work because I won't eat cookies that contain trans fats."
A few stents put in later that afternoon at Christiana Hospital was the only treatment that Cassman needed to remedy the one artery that was 90 percent blocked. But, she said, the ordeal gave her a new awareness of her familial predisposition to a condition for heart disease, as well as a new respect for the importance of AEDs.
"I feel extremely lucky, and I'm grateful to everyone who helped me that day," she said. "I don't know what little angels I had over me, but I was certainly in the right place at the right time."
As immediate CPR and defibrillation by an AED within the first four minutes of sudden cardiac arrest can increase a victim's survival rate up to 75 percent, the fact that an AED was so available attests to UD's preparedness, Ciolek said. "AEDs are easy enough to use so that anyone can apply them in an emergency situation, but accessing one quickly is critical," she said.
Currently, there are 30 units on UD's main campus, located in University police vehicles, the Trabant University Center, Perkins Student Center, the Bob Carpenter Center and Carpenter Sports Building, as well as several other buildings on campus. For a complete list and exact locations of AEDs on UD campuses, go to [www.udel.edu/OHS/CPR.html].
Click here for more information about CPR and AED Awareness Week.
Article by Becca Hutchinson
Photos by Kathy Atkinson and Tyler Jacobson