Ogunnaike cited for control engineering innovations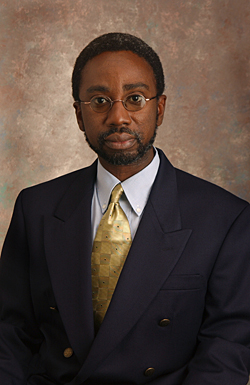 1:23 p.m., June 16, 2008--Babatunde Ogunnaike, the William L. Friend Professor of Chemical Engineering at the University of Delaware, has been awarded the 2008 American Automatic Control Council's Control Engineering Practice Award. The award, which includes a certificate and honorarium, will be presented during the 2008 AACC conference from June 11-13 in Seattle.
The Control Engineering Practice Award is given to one individual or one team selected from among those nominated for significant contributions to the advancement of control practice. The primary criterion for selection is the application and implementation of innovative control concepts, methodology and technology, for the planning, design, manufacture and operation of control systems.
Ogunnaike, of Hockessin, Del., heads the Ogunnaike research group at UD, whose efforts are organized around the general theme of first understanding the dynamic behavior of complex systems through mathematical modeling and analysis, and then exploiting this understanding for novel designs and improved operation.
"The particular complex systems of interest range from polymer reactors, particulate processes and extruders, to biological systems on the cellular, tissue and organ levels," Ogunnaike said. "When sufficient fundamental knowledge is available, we develop and employ dynamic 'mechanistic' models; when more data is available than fundamental knowledge, we apply probability theory and statistics for efficient data acquisition and 'empirical' model development."
The research group has three main areas of focus: Control and system theory, focusing on the development of effective control techniques, as well as reverse engineering biological control systems for process applications; systems biology, which brings principles of control and systems theory as well as probabilistic/statistical techniques to bear on the analysis of biological processes; and product engineering, process design and operations, which employ both stochastic and deterministic techniques for engineering desired characteristics into products.
"I am honored to have been considered for the award," said Ogunnaike, who received the Slocomb Excellence in Teaching award from the College of Engineering in 2005. Last fall he was awarded the Donald P. Eckman Education Award by ISA, a leading international organization based in Research Triangle Park in North Carolina that sets standards for automation and helps professionals solve difficult technical problems.
Ogunnaike earned a bachelor's degree in chemical engineering from the University of Lagos in Nigeria in 1976, and a master's degree in statistics and doctorate in chemical engineering from the University of Wisconsin Madison in 1981. He joined UD in the fall of 2002 after 13 years at the DuPont Central Research and Development organization.
Ogunnaike has written numerous books and more than 75 papers and book chapters, and served as associate editor of the Institute of Electrical and Electronics Engineers' IEEE Transactions on Control Systems Technology and the American Chemical Society's Industrial & Engineering Chemistry Research.
He has delivered more than 90 seminars at universities, conferences, symposia and companies and his textbooks have been used to educate and train thousands of engineers in instrumentation, systems and control at more than 29 universities.
Article by Martin Mbugua
Photo by Kathy F. Atkinson