Guatemalan water project named for UD prof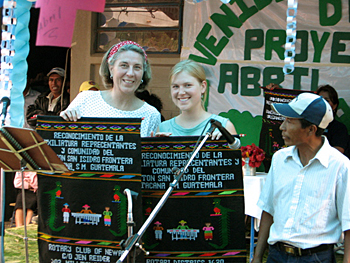 3 p.m., July 3, 2007-- "Amazed, surprised and gratified," April Veness, associate professor geography, said when describing her visit with UD graduate Sarah Archbald to the mountain village of San Isodro, Guatemala, for the official inauguration of its new water system.
Veness had been a mover and shaker in making the potable water system a reality, and the village named the system in her honor. "The villagers know me only as 'abril,' meaning the month of April, which is lower case in Spanish," Veness said. "When we arrived in the village, I saw the banner at the celebration saying 'Proyecto de abril' (April's project), and I was very surprised and honored."
Veness and Archbald traveled with 10 Rotarians, who also were involved in the project, on a minibus from San Marcos to San Isidro for the celebration, and it was a memorable day, she said. It was the rainy season, and the road between San Marcos and San Isidro was impassable so they approached the village from the Mexican border after a six-hour drive. Even so, they had to start walking up the mountain for the last kilometer until the villagers came in pick-up trucks to take them on the last lap of the journey.
There was a feast, a performance by school children, music by a band, a touching talk by the school teacher, who said she never imagined having running water in the school, and a presentation of awards by the village leaders, Veness recalled. A highlight of the celebration was when the village asked her to cut the ribbon, officially inaugurating the project.
Veness said she is hopeful that electricity will come to San Isidro some day.
During her three-week stay ending her sabbatical year in Guatemala, Veness also met with a delegation from Builders Beyond Borders and Rotarians in San Marcos to discuss plans for a school for deaf children.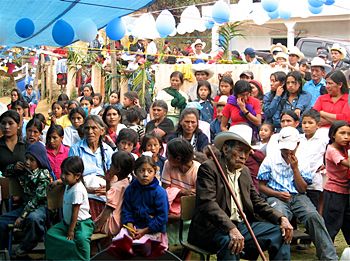 Veness's research focuses on Guatemalans in Delaware and in their native country and on the effect of remittance money earned in the United States. The remainder of her visit was devoted to completing her research on Guatemalans by visiting the people in different villages whom she has been interviewing over the past five years.
She also interviewed the governor of San Marcos about the effect of remittance money from the United States. "According to the governor, the money sent home from the United States is a primary source of income and creates work in such areas as construction and transportation, which affects the entire economy," Veness said.
Now, Veness has returned to Delaware and is preparing to consolidate and write about her research on Guatemalans in southern Delaware and in their native land.
Article by Sue Moncure