Ott is marine science teacher of the year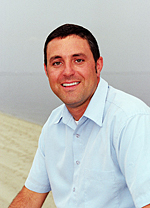 11:32 a.m., July 23, 2007--Donald Ott, who teaches 4th and 5th graders at Lulu Ross Elementary School in Milford, is the winner of the 2007 Governor's Marine and Aquatic Science Teacher of the Year Award.
Ott is the sixth recipient of the annual award, established by the Delaware Sea Grant College Program and the Office of the Governor, to recognize an outstanding Delaware teacher who demonstrates a strong commitment to educating students about marine and aquatic resources.
In the official award letter, Delaware Gov. Ruth Ann Minner and Nancy Targett, director of the Delaware Sea Grant College Program and dean of the University of Delaware College of Marine and Earth Studies, praised Ott for his significant talents and accomplishments in marine and aquatic science education. "Teachers like you, who go beyond the call of duty to help students achieve their full potential, are helping to make the educational system in Delaware among the finest in the nation," they wrote.
"I am honored to receive this award," Ott, who holds master's degrees from Wilmington College and Lesley University in Cambridge, Mass., said. "I would like to acknowledge my students for their hard work and dedication toward learning more about their environment and becoming conscientious thinkers around making choices. I would like to also thank my school administrators who have always encouraged my creativity and allowed me to teach from where I am passionate."
Ott joined Lulu Ross Elementary School in 2005. His classroom is designed with an ocean theme: photos of waterways and aquatic wildlife cover the walls and ceiling and an aquarium holds several horseshoe crabs, class pets that remind students each day about the importance of marine and aquatic life.
Over the course of the school year, Ott integrates environmental science into reading, writing, and social studies lesson plans and involves his students in projects that increase their understanding of marine, aquatic, and wetland environments. He mixes classroom learning with field trips and outdoor activities to help his students gain first-hand understanding of local ecosystems.
This year, his students researched local ecosystems, their importance to Delaware, the wildlife living there, and the impacts that humans have on them. The students created visual displays, which they exhibited in the school lobby and library. "The most rewarding part of teaching students about our marine and aquatic ecosystems is watching as they began to feel more comfortable sharing what they learned with their peers and families," Ott said.
Ott and his students also explore the natural world outside of Delaware. After his students read a story about Antarctica, Ott encouraged them to expand their knowledge by researching the animals of that ecosystem. They also learned how global warming could affect those animals and their habitats.
Ott's mentorship has had several positive and lasting impacts on his students. One youngster was so inspired by a guest speaker that Ott brought into the classroom that he became a volunteer with the Marine Education Research and Rehabilitation Institute. In 2006, the student received the Young Environmentalist of the Year Award from the Delaware Department of Natural Resources and Environmental Control.
Judges from the Governor's Office, University of Delaware, Delaware Department of Education, Delaware Teacher Center, and Delaware Teachers of Science selected Ott based on four major criteria: creativity, innovation, quality of teaching, and impact on students. Nominations included information about teacher programs, lesson plans and activities focusing on the marine and aquatic environments; student impact; and examples underscoring their commitment to marine and aquatic education.
As this year's winner, Ott will receive an all-expense-paid trip to the annual National Marine Educators Association conference, which is being be held July 23-27 in Portland, Maine. He also will be recognized at the University of Delaware's annual Coast Day festival on Sunday, Oct. 7, where he will have the opportunity to share project ideas and teaching techniques.
The call for nominations for next year's award will be issued in January 2008. For more information, contact the Sea Grant Marine Advisory Service at (302) 645-4346.