UD doctoral student wins DuPont fellowship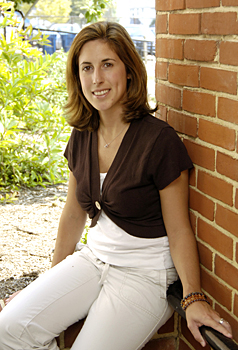 10:46 a.m., July 20, 2007--DuPont has announced that it will award a $25,000 "Clear into the Future" fellowship to a University of Delaware doctoral candidate who is calculating how much eco-tourism revenue might be generated by migratory shorebirds on the Delaware Estuary.
UD College of Marine and Earth Studies graduate student Kelley Appleman won the fellowship after being chosen from a field of outstanding applicants from the natural and applied sciences.
"Environmental resources like migrating shore birds have an economic value," Ralph G. Stahl Jr., DuPont senior scientist, said. "When we lose a red knot or a plover, we lose something priceless, but the local economy also loses real money. Kelley's work will help us understand precisely how much."
Appleman, 29, grew up in Hollidaysburg, Pa., and earned a bachelor's degree in economics from Millersville (Pa.) University in 2001. After graduation, she took a job as an analyst at MBNA.
In 2005, she began part-time work on a master's degree in economics at the University of Delaware. A course in environmental economics persuaded her to pursue a doctorate in the College of Marine and Earth Studies.
"As an undergrad, I was particularly interested in economic valuation of non-market goods, like the environment and environmental amenities," Appleman said. "I felt that the marine policy program would give me the opportunity to explore these interests from both a scientific and an economic perspective."
DuPont awards Clear into the Future fellowships to outstanding graduate students whose research promises to add to the body of scientific knowledge about the Delaware River and Delaware Bay.
This year's three winners attend UD, Rutgers University and Drexel University, respectively. Each will receive a $25,000 fellowship to fund a faculty-approved research project.
Clear into the Future is a DuPont initiative to enhance the beauty and integrity of the Delaware Estuary for generations to come. "Our vision for the estuary is one in which the working river and the living river flow together along one sustainable course," Stahl said. "Kelley's work will support that vision by helping us understand how economy and ecosystem interact in the Delaware Estuary."
For more information about DuPont's Clear into the Future initiative, see the web site [www.clearintothefuture.com].
Photo by Kathy F. Atkinson