UD hosts institute for emerging disabilities leaders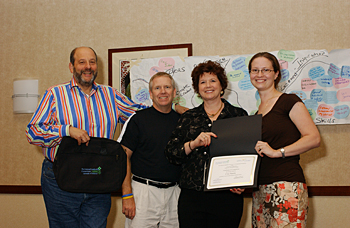 3:12 p.m., July 20, 2007--The National Leadership Consortium on Developmental Disabilities, a project of the Center for Disabilities Studies (CDS) at the University of Delaware, held its third Leadership Institute, July 15-20, on the Newark campus.
The Leadership Institute offered 30 emerging leaders in the disability field from the U.S. and around the world the opportunity to come together for intensive training with a faculty of national experts on leading-edge supports for people with disabilities.
"This summer's Leadership Institute provided opportunities for emerging leaders to understand how to move systems and organizations forward and how help people with intellectual and developmental disabilities achieve the lives they want in the context of their community and family," Nancy Weiss, co-director of the National Leadership Consortium, said.
Cory Nourie, training coordinator in the adult services unit at CDS, attended the institute as an emerging leader.
Nourie has been a staff member with CDS since 1999. Before that, she served as a direct support professional for group homes, sheltered workshops and competitive employment. Nourie earned a bachelor's degree in sociology with a concentration in social welfare and a minor in disabilities studies with honors from UD in 2002. She received a master of social service and master of law and social policy degrees from Bryn Mawr College in 2004. As training coordinator in adult services at CDS, she coordinates the Leadership, Employment, Advocacy Development Project, working with youth and emerging leaders with disabilities.
"Participating in the Leadership Institute was a wonderful experience, where I had the chance to learn from very progressive leaders in our field, who have accomplished some amazing feats. The week was also about connecting with fellow emerging leaders from all over the U.S., Qatar and Croatia," Nourie said. "We learned about our strengths as leaders and ways we could enhance our leadership abilities. I walk away from the week re-energized and refocused on the issues that impact the quality of lives of individuals with disabilities."
Consortium co-directors Weiss and Steve Eidelman, the Robert Edelsohn Professor of Individual and Family Studies, are veterans of two of the largest disability associations in the nation. They said they developed the consortium to attract and train a new generation of leaders like Nourie in anticipation of current staff reaching retirement age.
The Leadership Institute is co-sponsored by the Center for Disabilities Studies, Liberty Healthcare Corporation, the ANCOR Foundation, the Council on Quality and Leadership and the National Association of State Directors of Developmental Disabilities Services.
For more information visit [www.nlcdd.org] or call the Leadership Institute at (302) 831-2940.
Article by Barbara Garrison
Photo by Duane Perry