Calibrated Peer Review process promotes thinking, expert says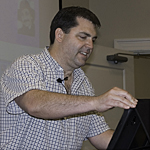 4:54 p.m., July 13, 2007--Todd Nickle, Mount Royal College, Calgary, Alberta, Canada, explored how peer-reviewed writing can be used to help students synthesize thoughts and enhance learning at the Summer Faculty Institute, held June 18-22 at UD. Nickle discussed the educational benefits of "Calibrated Peer Review as a tool to promote thinking."
"A thought is a mental process to model the world and deal with it effectively. Thoughts are clearly articulated ideas. If you can't articulate it, it's only an inkling," Nickle said.
"But how do you help students mature an inkling into a thought if they don't have extensive background in the discipline?" Nickle asked.
To help students mature inklings into thoughts, Nickle turned to writing and a method called Calibrated Peer Review. CPR is a web-based writing and peer-review method developed at UCLA. Nickle used it to create an environment in which students practiced organizing their thoughts on challenging material. According to Nickel, CPR provides a training ground for students to develop their "intellectual muscles."
Students face challenges to learning in a number of ways. These challenges range from weak writing skills and poor time management to problems using new technologies. Student learning strengths include technical skills, multitasking, a broad perspective, and interactive skills, Nickle said. To overcome some of these learning challenges while simultaneously using students' strengths, Nickle used CPR in a class of more than 300 freshman students taking a basic cell biology course.
"CPR gives students an opportunity to address an essay-format question and to learn to communicate in a discipline-appropriate manner," Nickle said.
"The process begins by writing," Nickle said. Students submit their written work anonymously.
"Students then assess poor, average and excellent essays provided by the instructor using guiding questions and review," Nickle said. The students then use the same questions to assess the work of three other students and finally to assess their own work.
"Most importantly, CPR provides students with the experience of how to convert inklings into thoughts and clearly articulate ideas, which enhances learning. These skills travel with them throughout college as well as into the working world," Nickle said.
For more information about CPR as designed by UCLA, visit [http://cpr.molsci.ucla.edu].