Workshop addresses Sussex County development issues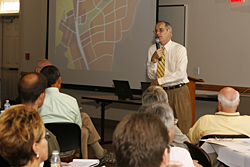 12:43 p.m., July 6, 2007--Preserving the ecological heritage of Delaware's southernmost county through environmentally sound developmental strategies was among the topics discussed during a recent workshop held June 28, at UD's Elbert N. and Ann V. Carvel Research and Education Center in Georgetown.
Sponsored by UD's Coastal Communities Enhancement Initiative (CCEI), the "Sussex Communities: Growing Better" workshop featured presentations by UD professionals who provided an overview on the initiative's efforts to address growth issues in Sussex County. More than 100 members of the UD and local communities attended the event.
Coordinated by a steering committee with members from the College of Marine and Earth Studies (Delaware Sea Grant Program), the College of Agriculture and Natural Resources (Cooperative Extension) and the College of Human Services, Education and Public Policy (Institute for Public Administration), CCEI addresses issues related to growth, land use and environmental impacts in southern Delaware.
"This is an unveiling of that initiative," Robin Morgan, dean of the College of Agriculture and Natural Resources, said. "Today, we are asking for input for the community. We don't have the answers, but we are looking for them."
Among the actions recommended by CCEI are:
Develop and conduct workshops, seminars and educational programs on community growth and development;
Provide forums for citizens and local community leaders to engage relevant issues;
Support applied research to address growth and development issues facing communities;
Engage graduate and undergraduate students in helping to address the challenges facing communities as they grow; and
Distribute research results and appropriate information through websites, fact sheets and other publications.
Keynote speaker and Pulitzer Prize-winning journalist Thomas Hylton spoke of the need to better manage development and to encourage people to consider the advantages of living in towns, villages and cities.
"People want to be where there is something to do," Hylton said. "Across the country people are rediscovering cities and towns."
Hylton's talk, "Save Our Lands, Save Our Towns," which takes its title from his 1995 book of the same name, began with what he called a "journalist's view" of the history of land use in America from early times to the present.
"The Europeans came, and chopped down trees, and when they had exhausted one area, they kept moving west," Hylton said. "This trend kept going until Teddy Roosevelt became president (1901). He was appalled by what we were doing out west, and figured that if things kept going that way, the country would run out of forests in 35 years."
The movement from towns to the country was accelerated after World War II by the relative affordability of automobiles and the creation of a new interstate highway system, Hylton said.
""Millions of Americans moved to the countryside, and with this movement came strip malls and corporate centers," Hylton said. "Our solution has always been to build more highways."
With the growing concern for the environment that began in the late 1960s and early 1970s, Hylton said people are beginning to recognize that such an approach to growth management is no longer sustainable.
"This kind of growth has emptied our traditional downtowns, isolated minorities and caused us to lose millions of acres of farmland since the 1950s. It also makes natural conditions like droughts and flooding even worse," Hylton said. "There is an understanding that we can't keep going this way. We need to rediscover the paths of our villages, cities and towns."
Hylton said that planners at all levels of government should consider the use of environment-friendly planning efforts such as those adopted by Boulder, Colo., where a clear boundary between town and country has been established by a system of greenways that provide residents with a number of bike and walking trails.
"If we want people to care about America," Hylton said, "we need to live in an place that we care about."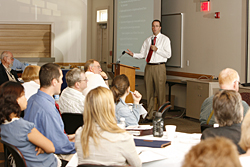 Coastal Community Enhancement Initiative
Following Hylton's presentation, a CCEI panel moderated by Bernard Dworsky of the Institute for Public Administration discussed issues ranging from how to better accommodate the increasing number of retirees moving to Sussex County, to growth management and the impact of development on the environment.
Panel members included James Falk, director of UD's Sea Grant Marine Advisory Service; David Ames, director of UD's Center for Historic Architecture and Design; Joshua Duke, associate professor of food and resource economics; and Alissa Bierma, a graduate student in the College of Human Services, Education and Public Policy.
"The population in the coastal areas continues to rise at a great rate, and even the storms and hurricanes are not keeping people from migrating to the coast," Falk said. "The problem is that coastal habitats are disappearing at a rapid rate. We have to make sure that our quality of life is maintained and even enhanced. This has to be a national effort, and we have to help decision makers understand the environmental impact [of growth] by giving them access to UD research."
Among the potential problems generated by rapid growth is the impact of such development on the historic resources of Sussex County, Ames said.
"The dilemma is that this growth is going to destroy the resources that are attracting people to Sussex County," Ames said. "The net loser as a result of all this rapid residential growth is the forests and wetlands of the county."
Coastal habitats are not the only areas affected by the increasingly rapid rate of development in Sussex County, Duke said.
"We are losing farms because of a market failure, and this loss includes scenic views, water quality and locally grown produce," Duke said. "We need a way to preserve farm land, and make it worth more to the public in terms of amenities."
Software solutions for projecting growth scenarios
Moderated by William McGowan of the Cooperative Extension Service, the final session of the workshop addressed growth scenarios for Sussex communities using Community Viz, geographic information system software for land use planning.
Panel members included Chuck Donley of Donley & Associates, who communicated electronically from Colorado Springs, Susan White-Hansen of the Carvel Research and Education Center, and Troy Mix of the Institute for Public Administration.
White-Hansen said that Community Viz has the potential to help planners by showing what the cost of development will be and what might happen to a town or community as a result of increased population growth.
"Growth is here," White-Hansen said. "The question is, 'what are we going to do about it?'"
Article by Jerry Rhodes
Photos by Kathy F. Atkinson