Watson receives honorary professorship in Peru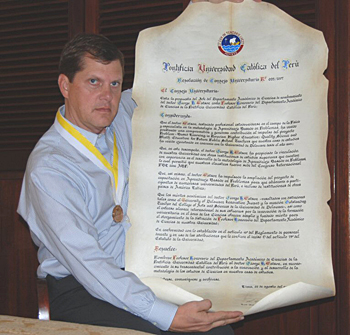 4:43 p.m., Jan. 23, 2008--The University of Delaware is a center for Problem-Based Learning (PBL), an international educational movement, based on active learning, encouraging students to work in groups, carry out research and think independently about real world problems.
In recognition of his PBL work, George Watson, senior associate dean of arts and sciences and Unidel professor of physics and astronomy, recently received an honorary professorship from the Pontificia Universdad Catolica del Peru (PUCP). He was presented with a genuine sheepskin certificate and official university medallion at the December ceremony.
Watson said he was pleased and honored to receive the honorary professorship. He has been involved with PUCP for many years and said he looks forward to working with the university in the future, possibly on programs involving UD graduate students.
In his remarks at the ceremony, Watson pointed out that the PBL approach to education began 16 years ago and that UD is "considered by many to be an important international center for PBL." Pontifica Universidad "has become an equally important center for faculty development in a relatively short time," he said, involving not only institutions in Peru but in other countries across the American continents. He pointed out that the translation of PBL materials into Spanish has been instrumental in expanding PBL in Spanish speaking countries.
In his talk, Watson cited UD faculty members "who have been vital to the success to our partnership with PUPC: Barbara Duch [retired from the School of Education], Deborah Allen [associate professor of biological sciences], Richard Donham [associate policy scientist in the Center for Math and Science Educational Resources], Susan Groh [assistant professor of chemistry and biochemistry] and Hal White [professor of chemistry and biochemistry]."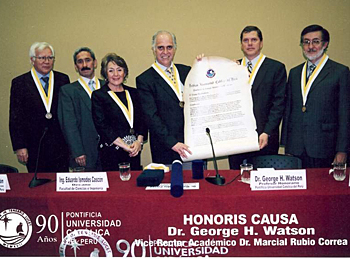 The relationship between UD and Pontifica began in 2001 when Ana Pastor de Abram, the principal professor of the science department, who nominated Watson, and Lucho Bretal visited UD, Watson said. This was followed by an international conference at UD in 2002, further exchange visits and an international conference at Pontifica in 2006. Watson has visited Peru eight times and South America 10 times, and "significant projects in PBL have developed far beyond the scope of the initial project," he said, although "much remains to be done." He closed by saying he was "grateful and proud to be granted this honorary professorship" and that he looked "forward to many more years of work together."
A PBL pioneer, Watson, along with other UD faculty has spread the concept in several areas of the world. After his stay in Peru, Watson gave workshops and consulted with faculty in Chile at Universidad Catolica del Norte in Antofagasta, Universidad de Santiago de Chile and the Universidad del Bio-Bio in Concepcion.
During spring semester, with Mark Serva, assistant professor of accounting and management information systems, Watson will be giving workshops at Yuan Ze University in Taiwan and then the University of Guam as part of his sabbatical year. In the past, he has been to Lebanon and Malaysia.
Article by Sue Moncure