UD to offer nation's first wheelchair dance course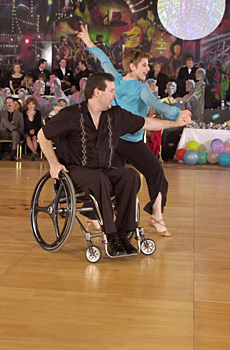 4:36 p.m., Jan. 29, 2008--A $10,000 Quality of Life grant from the Christopher and Dana Reeve Foundation will fund a new University of Delaware Collegiate DanceWheels Program during spring semester. The program will be the first accredited collegiate wheelchair ballroom dance course in the nation, offering ballroom and Latin dance classes to people with physical disabilities and their able-bodied partners. The first class meeting is slated for Wednesday, Feb. 13, in Pearson Hall.
The course results from a unique affiliate between UD and the American DanceWheels Foundation (ADF). Melinda Kremer, executive director of ADF, said that the foundation "applauds the Christopher and Dana Reeve Foundation for its support of this uniquely physical, cultural and social experience."
Participants from the UD community and beyond will be learning dance while also exploring the similarities and differences that exist between people with and without disabilities. The close connection that builds between dance partners has been found to facilitate communication and understanding despite physical and social barriers.
Pat Grim, a UD staff member and one of the instructors for the class, said, "One of the goals for these classes is to educate the community. People whose movement is limited by wheelchairs can learn to dance with a standing partner, and they dance beautifully with grace and passion. This groundbreaking University program has the potential to impact the community in an extraordinary way."
The program will follow the ADF's syllabus, teaching partner dance skills that can be used at social events such as weddings, parties and holiday celebrations. The course is listed as part of the College of Health Sciences, under course number HESC120-018. Registration information is available in the UD course registration book [www.udel.edu/registrar/regbook.html].
For more information, visit [www.americandancewheels.org] or e-mail [info@americandancewheels.org].
Article by Crystal Buck