Students travel to Argentina and Antarctica for study abroad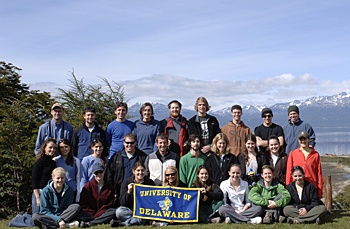 Editor's note: Since the 1920s, when it established the first U.S. foreign study program, UD has been a leader in study abroad. During the current Winter Session, UD students are traveling to more than 30 countries as participants in study abroad programs, including the one highlighted below.
4:17 p.m., Jan. 8, 2008--For 25 UD students and their two professors--Jacob Bowman, associate professor of entomology and wildlife ecology, and Jonathan Cox, supplemental art faculty--Friday, Jan. 4, was not a typical first day of class. At 4 p.m., they boarded a plane at New York's JFK airport heading for Argentina and Antarctica as part of the University of Delaware Winter Session Study Abroad Program.
Today, the group departs Argentina from its port city of Ushuaia, the southernmost city in the world, headed toward the South Pole. Ushuaia is often referred to as the "Gateway to the Antarctic" because of the port's popularity as a departure point southward.
The timing of this trip coincides with the International Polar Year (IPY), a worldwide scientific program that focuses on physical, biological and social research of the Arctic and Antarctic. To cover the breadth of science occurring at the poles, IPY actually runs from March 2007 to March 2009. The program, which is nearing its midpoint, comprises the efforts of 200 projects being conducted by more than 60 nations. And while students are not going to the geographic South Pole, they will set foot on the Antarctic Peninsula and will experience polar science on their journey.
Bowman said, "This is just yet another way to raise awareness of the polar regions. Students will go home and talk to their friends and families about their experiences. Their one-on-one interactions will have a larger impact than just reading a magazine article because it's coming from someone they know. People protect what they know about."
The Antarctic portion of their trip will end on Jan. 16, when the group returns to Ushuaia and spends the remainder of the session backpacking through small towns and parks. Local guides will be on hand to ensure a true Argentinean experience.
Four courses are offered through this study abroad program: Nature/Wildlife Photography, Advanced Wildlife Photography, Wildlife Conservation: An International Perspective, and Communication of Natural Resource Issues. All students are required to take the communications course and then either focus on wildlife conservation or photography.
Bowman calls the communications course the "binding" class for the students. Students will work in one of six groups--global warming, penguins, seals, whales, ecotourism and international fisheries--each made up of two photography students and two wildlife students. They will work together to compile a scientific magazine-type article incorporating their experiences and coursework.
Bowman said he has high hopes for the students. "I hope that the students gain a better understanding of international policy as it relates to global conservation, the biggest part being that what they do at their house in Delaware affects people worldwide. Our pollutants here in Delaware are not just a Delaware problem," Bowman said.
Not only will the trip be a learning experience for the students, it will be an opportunity for the instructors to add to their teaching repertories. This is Bowman's first excursion to the area.
"I'm looking forward to seeing species of animals that I've lectured about but have never seen before," he said. "I get to go to one of the most sensitive areas of the world that not a lot of people get to see. I will experience things firsthand that I can relay to students back in Delaware, [and] when I'm teaching about whales, I can use the photographs taken during the trip in my lectures to bring the experience into the classroom," Bowman said.
Cox has been on two other study abroad programs to Argentina and Antarctica, but with a slightly different twist. The past trips, in 2003 and 2005, led by Cox and Ralph Begleiter, Rosenberg Professor of Communication at UD, spent the Argentinean portion of the session in the hustle and bustle of Buenos Aires with a stronger cultural rather than ecological focus.
"This trip will focus on the experience that the students have. None of the courses will be lecture courses. Students will be expected to reflect on their experiences and tie them into the teachings. It's like one long field trip," said Bowman.
While offered and led by the College of Agriculture and Natural Resources, the students come from diverse majors. The group includes 11 students from the college, majoring in wildlife conservation or animal science; the remainder, more than half of the students, are from every other college at the University.
Winter Session allows students to take four to five weeks to study abroad, without a long-term commitment to being out of the country. It is one of the ways that UD offers unique experiences for its students while offering course credit. This Winter Session alone, the College of Agriculture and Natural Resources is offering study abroad programs in Brazil, Costa Rica, Ecuador and the Galapagos, and New Zealand.
Communications from the group back to UD will be sporadic based on their access to the Internet. Check out Cox's trip blog, "UD Antarctic/Patagonia 2008," at [http://web.mac.com/jon_cox] for updates and photos.
For more information about the University of Delaware's International Polar Year efforts and the Study Abroad Program visit [www.udel.edu/research/polar] and [http://international.udel.edu].
Other Study Abroad Program blogs
To learn about the adventures of students on a UD Study Abroad Program in Brazil, check out their blog at [http://landscapesofbrazil.blogspot.com].
To follow the journey of UD students studying in Turkey and Greece, go to [http://www.udel.edu/global/turkey/Turkey_Abroad/Blog/Blog.html].
Article by Katy O'Connell
Photo by Jon Cox