Talk on black double consciousness set Feb. 26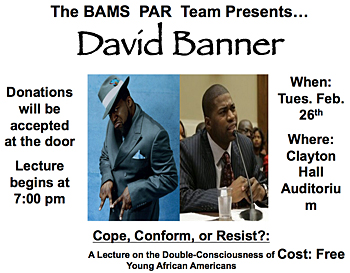 4:03 p.m., Feb. 21, 2008--Rapper David Banner will give a talk at UD titled "Cope, Conform or Resist: A Lecture on the Double Consciousness of Young African-Americans" at 7 p.m., Tuesday, Feb. 26, in Clayton Hall Auditorium on the Laird Campus. Sponsored by Black American Studies and the Department of English, the talk is free and open to the public.
Banner, whose real name is Lavell Krump, also is an actor, record producer and philanthropist, who lectures across the country on black identity. He will speak at UD as part of a research project conducted by the Black American Studies Participatory Action Research team (BAMS PAR) examining the experiences of blacks at UD.
The study suggests that black students feel torn between holding on to an authentic black identity and conforming to a more mainstream white value system in order to thrive in the college environment.
Banner will discuss strategies on how to "keep it real" and be successful in a professional, or what some consider a "white," world. He'll also discuss hip-hop's role in maintaining "authentic black identity" and his personal experiences in dealing with a white-controlled entertainment industry while staying connected, relevant and committed to black America.
"We believe that due to David Banner's dual career in rapping and lecturing this will enable him effectively speak on the double consciousness experienced when a person is a part of opposing worlds," said senior Thea James Ogunusi, a PAR team member.
Last September, Banner testified before Congress about African American media stereotypes, his lyrics and whether or not they are appropriate or stereotypical. He told legislators that his lyrics explain painful black experiences. "I can admit there are some problems in hip-hop but it is only a reflection of what's taking place in our society. Hip-hop is sick because America is sick."
For more information, call BAMS PAR faculty adviser, Yassar Payne, assistant professor of Black American Studies at (302) 831-4383, or send e-mail to [ypayne@udel.edu].