Nobel winner to address climate change Feb. 27 at UD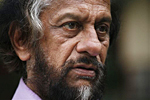 Editor's note: Rajendra K. Pachauri will be unable to speak at the Feb. 27 program, and instead a round-table discussion with John Byrne, Frederick Nelson and Yda Schreuder will be presented. For additional information, click here. Updated at 6:27 a.m., Feb. 27.
5:06 p.m., Feb. 22, 2008--Rajendra K. Pachauri, chairperson of the U.N. Intergovernmental Panel on Climate Change (IPCC) that shared the 2007 Nobel Peace Prize with former U.S. Vice President Al Gore, will kick off the spring 2008 Global Agenda lecture series, "Boiling Point: International Politics of Climate Change," which will be held at 7:30 p.m., Wednesdays, in Mitchell Hall, beginning Feb. 27. The series is free and open to the public.
Pachauri, whose talk is titled "Creating a Climate for Political Action," also is director-general of the Energy and Resources Institute in New Delhi. He has taught at several U.S. universities and has served as a consultant to the World Bank. He is the author of 23 books.
Other lectures in the series include:
March 12, Andrew Revkin, environmental and climate correspondent for The New York Times and author of several books and of the Times' "Dot Earth" blog on environmental affairs;
March 26, Janet Hall, special policy adviser at the U.N. Foundation in Washington, D.C., focusing on sustainable energy development through international trade and its effects on developing nations. Hall is a former career U.S. Foreign Service officer and counselor to the U.S. Trade Representative;
April 9, John Byrne, IPCC member and director of UD's Center for Energy and Environmental Policy and Distinguished Professor of Public Policy at UD; and
May 7, John Hofmeister, president of Shell Oil Co. and adviser to the American Petroleum Institute and the U.S. Department of Energy.
Organized by Ralph Begleiter, UD's Rosenberg Professor of Communication and distinguished journalist in residence, the series is designed to survey potential threats to the United States and explore the complex framework of global relations. The series is cosponsored by the University of Delaware and the World Affairs Council of Wilmington.
For more information on the speakers and their subjects, visit [www.udel.edu/global]. For general information on the series, call the Department of Communication at (302) 831-8041.
Article by Martin Mbugua