UD's Caravaggio scholar turns controversy to advantage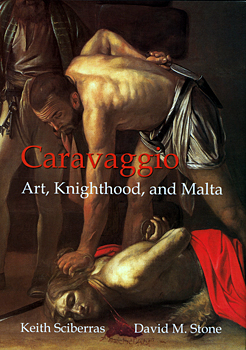 11:36 a.m., Dec. 12, 2007--David M. Stone, associate professor of art history at UD, recently shared his expertise on Caravaggio by lecturing at a symposium held for scholars of the Italian Baroque painter and inadvertently found himself at the center of an artistic controversy during the opening in Malta of two exhibitions on the 17th-century master.
Invited by the Saint John's Co-Cathedral Foundation to attend the opening of Caravaggio and Paintings of Realism in Malta, an exhibition commemorating the 400th anniversary of Caravaggio's stay on Malta, Stone was a distinguished guest at the cathedral where the exhibition took place and was one of just four invited scholars scheduled to lecture at the Grand Master's Palace in a symposium held in conjunction with the show. A member of the exhibition's scientific committee, Stone contributed an essay, "Painting in Exile: Caravaggio and the Island of Malta," to the accompanying catalogue. Additionally, comments he made on a rival Caravaggio exhibition running concurrently in Valletta garnered him media attention after the local paper Malta Today quoted him and fellow Caravaggio scholar Keith Sciberras.
"I think most people would probably agree that I'm the international expert on Caravaggio's Malta period paintings," Stone said, "and Sciberras and I essentially blew the whistle on the misrepresentations and inaccuracies promoted by the rival exhibition, Caravaggio and the Divine Image."
Claiming in widespread promotional materials to contain 17 works by Caravaggio, the exhibition that Stone questioned in fact contained just two actual works by the master. The discrepancy caused so much art world fallout that scholars and critics are still weighing in.
"The controversy hasn't yet reached broad international attention," Stone said, "but I think it is going to, based on the fact that the Caravaggio art market and scholarship arenas have become so contentious."
Meanwhile, Stone added that the Caravaggio exhibition to which he contributed profitted greatly from all the hoopla about the other show: "The exhibition, Caravaggio and Paintings of Realism in Malta, which focuses on Caravaggio and 'caravaggism' in Malta, showcases more than two dozen works from Maltese collections," Stone said, adding that it also includes a major loan from a collection in Florence and what is perhaps the most famous of all Caravaggio's paintings, The Beheading of John the Baptist.
"What is particularly interesting about this exhibition is that while many of these paintings have been studied previously, they've never all been in the same room together," Stone said. "This means that what some scholars have been trying to understand for centuries has really emerged more clearly now that these works have been cleaned and put in one space."
Stone, who is on sabbatical until the spring semester, said that the experience of spending so much time at the exhibition in the midst of such culture has been intellectually rewarding, and added that much of what he's gained from his stay will end up in a graduate seminar he'll teach at UD this spring.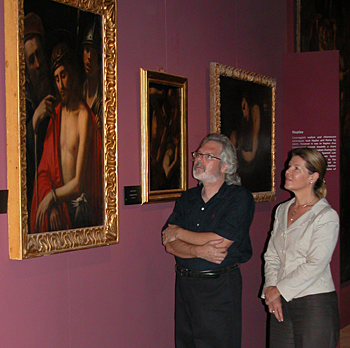 After extending what was originally intended to be a weeklong stay into a month, Stone said he also benefited from a visit to Florence, Italy, where he was asked by Caravaggio scholar and restorer Roberta Lapucci to lead a seminar on "Attribution Problems in Caravaggio Studies" at the Studio Art Centers International, a prestigious Florentine institution where several graduate student alumni of UD's conservation program enrolled prior to studying here in Newark.
Additionally, Stone said that his symposium paper, "Caravaggio, Signature Killer: The Poetics of Blood in the Malta Beheading," was enthusiastically received and occupied center stage in an article the next day in the local newspaper, The Malta Independent. Stone is preparing his lecture for publication.
"My lecture was an analysis of the signature in the lower center in Caravaggio's gigantic painting of The Beheading of John the Baptist, which is the altarpiece in the oratory of St. John's Cathedral in Malta," said Stone.
"It's unlike any signature in the history of art. It's witty in that it seems to take the pool of blood beneath John's severed neck and draw it out, either with a brush or a stick or a thumb, into Caravaggio's signature so that it looks like an act of graffiti, and it was a very daring act on many different levels. My lecture was all about that act in the broader context of the Knights of Malta," Stone said, emphasizing his unique angle of scholarship.
"I've written about the painting and its various elements of iconography elsewhere," he said, "but the signature I think in many ways is one of the most important elements in the picture, and no one has ever really done a thorough analysis of it before."
Stone, with Maltese collaborator Sciberras, is author of the recent book, Caravaggio: Art, Knighthood, and Malta (Midsea, 2006), currently on display at Morris Library.

Article by Becca Hutchinson
Photo courtesy of David Stone