UD police force to expand and start armed foot patrols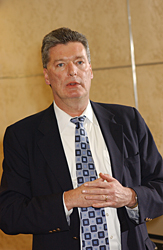 11:30 a.m., Dec. 12, 2007--The Department of Public Safety will hire more police officers, start armed foot patrols in campus areas that are inaccessible by car and enhance outdoor lighting. Scott Douglass, senior vice president, announced the changes on Dec. 4 during a University forum on safety.
Douglass, who was accompanied by Chief James Flatley, director of public safety, said the University will hire five additional police officers to increase the number of sworn officers to 48, so that more officers can be assigned to patrols after dusk.
"We want officers out of cars in areas where it would improve safety by having police officers walking around," Douglass said.
Douglass said a survey of campus lighting, which coincided with the forum, will determine areas that need additional lighting installed. More blue light emergency phones and surveillance cameras also will be installed and entrances to some buildings will be secured with electronic locks, he said.
Flatley said all UD police are sworn officers who are trained in the Delaware State Police Academy, the New Castle County Police Academy and the Wilmington Police Academy, and certified to handle weapons. Additionally, in preparation for the new policy, all UD officers will receive additional training, he said.
Flatley said the Department of Public Safety underwent a three-year assessment and received accreditation from the Commission on Accreditation for Law Enforcement Agencies, a highly prized and international recognition of professional excellence.
"It is something that we are very proud about," Flatley said. "It says something about the men and women of the department: That they do a good job and it is something that they have been doing for a number of years."
Douglass said UD has been working closely with the Delaware State Police and the Delaware Department of Safety and Homeland Security on emergency preparedness, and plans are being made for a major joint exercise on campus next summer.
In response to a question about the University's emergency alert system, Flatley said the telephone text and e-mail messaging system has been successfully tested. He described other means through which an emergency alert would be sent out, including telephone voice messages, a message that can override the campus television network and screen projectors in more than 160 classrooms, and outdoor loudspeakers.
Flatley said the escort service provided by the Department of Public Safety had grown exponentially, from 3,900 escorts in the 2005 fiscal year to 33,000 escorts in the 2007 fiscal year. He said the department has hired more police aides and increased the vehicles available in order to meet the growing demand.
"The escort service is meant for students, for one or two of you when you need to get from one place to another," Douglass said. "It's not a cab service for a dozen."
Flatley said the night shuttle bus schedule was recently changed to go along Main Street every 20-25 minutes, "trying to hit all the areas that students like to visit or congregate."
Flatley offered safety tips and encouraged students who see anything unusual or a suspicious person in residence halls to call 911, preferably using a landline to ensure that the call is immediately routed to UD police.
"This is your community. This is your home for 8 1/2 months of the year and you have to treat it that way," Flatley said. "If you see something in your residence hall or your apartment complex and something is not right, pick up the phone and dial 911. Give us a call. Let us know. Provide some information. Give us a chance to respond to see what it is. It could be harmless, but you don't know that, so let us find out."
Flatley also urged students to keep safety in mind, even when they are stepping away for just a few minutes.
"It takes only eight seconds to walk into an open room, pick up something and walk out, so we encourage everyone to keep the door to their room locked at all times," Flatley said. "We are doing everything we can to make this community a safer place, but we also need your help to make it work."
Article by Martin Mbugua
Photos by Duane Perry