Nees wins fellowship to attend symposium on Islamic art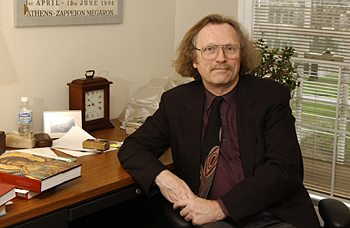 1:27 p.m., Aug. 23, 2007--Lawrence Nees Jr., professor of art history, has been awarded a 2007 Hamad Bin Khalifa Fellowship to attend "Rivers of Paradise: Water in Islamic Art and Culture," the second biennial symposium on Islamic art, from Nov. 3-7 in Doha, Qatar.
Convened by Virginia Commonwealth University School of the Arts at the Qatar campus, the symposium aims to foster the development of an international community of researchers and scholars in Islamic art and cultures.
Nees, of Moylan, Pa., was selected for the competitive fellowship from more than 300 applicants from 62 countries, including historians, art historians, architects, engineers and curators. The fellowship, which was awarded to 15 participants, provides financial support for conference attendance and recognition of scholars from diverse geographic and cultural areas, including those from the less developed countries.
"This is a major international conference on Islamic culture, and it is an honor for me to have been chosen to participate as a Fellow," Nees said. "My own speciality has long been medieval art in the Western world, but I have becoming increasingly involved with teaching and scholarship on Islam in recent years, and I participate in the Interdisciplinary Minor in Islamic Studies at UD, which is a new initiative."
Nees joined UD as an assistant professor in 1978. He obtained his bachelor's degree with honors from the University of Chicago and his master's and doctoral degrees from the Department of Fine Arts at Harvard University.
Nees conducts research in the area of medieval art and has published four books and dozens of articles. He also has received grants and fellowships from the Guggenheim Foundation, the National Endowment for the Humanities, the American Council of Learned Societies, the American Philosophical Society, the Mellon Foundation, the Institute for Advanced Study at Princeton University, the Center of Advanced Study in the Visual Arts at the National Gallery of Art in Washington, D.C., and many others.
Article by Martin Mbugua
Photo by Kathy F. Atkinson