Chemical engineering staffer honored as HR Liaison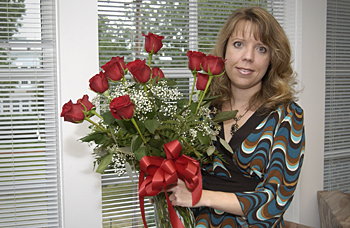 4:15 p.m., Aug. 29, 2007--Katherine (Katie) Shearer, an administrative assistant in UD's department of chemical engineering, was greeted with a bouquet of roses when she arrived at work last week to the news that she'd been named this quarter's Human Resources (HR) Liaison.
"It was nice to be noticed," Shearer, who in addition to handling all departmental paperwork for new hires also coordinates the department's graduate program, said.
"The University's Department of Chemical Engineering is a very large department. This year the number of incoming chemical engineering undergraduates is about 190, and we're rated among the top 10 chemical engineering departments in the nation. We have very good graduate students and a lot of research projects, so I am by no means the only person who is carrying the department's administrative workload. We have a large staff of 20-plus people, with a full-time accountant and a business office, and I'm fortunate to work with colleagues I can rely on," she said.
Shearer, who has been in her current position for three years and with the Department of Chemical Engineering since joining the University in 1999, said that although the bulk of her responsibilities lie in administrative tasks, she also devotes a significant portion of her workweek to chasing down answers to stray requests.
"I'm very much of the theory that 'the buck stops here,'" she said. "When students come to me with questions, I like to find out definitively what they need answered, whether it's my job or not. It really is my job."
She added that going this extra mile also is one of her greatest job satisfactions. "From being an HR Liaison, I have a lot of good contacts and resources across campus," she said. "I'm also on the University's committee for the HR support team with several people from other departments, and I like that, because it's nice to handle the concerns of my contemporaries."
Shearer said that her secret to job success is the high premium she places on teamwork. "The teamwork here is wonderful," she said. "I want to emphasize how much I appreciate working with the other staff members in my department, and I really do feel that I couldn't do as good a job as I do and have the opportunities that I have without such a good team to work with."
Article by Becca Hutchinson
Photo by Tyler Jacobson, AS '06