Prof receives 'best paper' award at global conference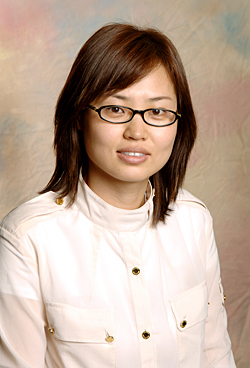 4:27 p.m., April 8, 2008--Jaehee Jung, assistant professor of fashion and apparel studies, recently received the Best Conference Paper Award in the Fashion Marketing Track from the 2008 Global Marketing Conference, held in March in Shanghai. A total of 372 papers were presented, with more than 450 attendees, representing 57 countries.
Jung's current research focuses on cross-cultural comparisons of body image and the socio-cultural and behavioral influence on body image. The award-winning paper, coauthored by Yoon-Jung Lee of Korea University in South Korea, was entitled "Cross-Cultural Examination in Advertisements in Women's Fashion and Beauty Magazines in the U.S, and South Korea" and has been accepted for publication in a noted academic journal, Psychology and Marketing.
A total of 4,376 advertisements were analyzed in terms of model ethnicity, body types and nudity levels in four issues of three fashion magazines from each country. Research revealed that the body size of models in Korea was smaller than in the U.S., that models in the U.S. were shown with their faces hidden but with a higher level of nudity than in Korean magazines, and that 87.3 percent of models in U.S. magazines and 66.1 percent of models in Korean magazines were Caucasians. Only 27.8 percent were Asian models in Korean magazines.
"It was rewarding to be able to present the results of our research to scholars from all over the world and to receive the award from the 2008 Global Marketing Conference," Jung said.
She said she also wanted to increase public awareness of the broad interests of fashion scholars that interrelate with other academic disciplines. For example, Jung has written recent articles on body dissatisfaction and disordered eating which have appeared in Psychology of Women Quarterly, Family and Consumer Sciences Research Journal and The Journal of Social Psychology.
A graduate of the University of Suwon in South Korea, Jung received a master's degree from Chicago State University and master's and doctoral degrees from Ohio State University. She joined the UD faculty in 2003.
Article by Sue Moncure
Photo by Kathy Atkinson