'Global Impact of Getting Dressed' focus of fashion lecture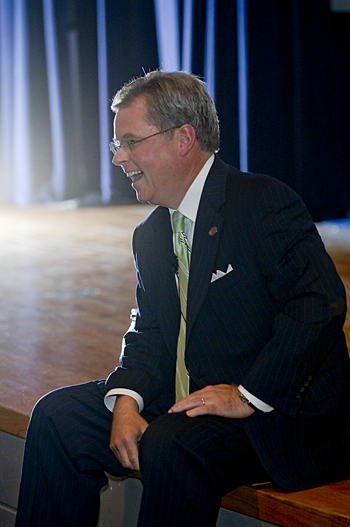 9:47 a.m., April 28, 2008--Kevin M. Burke, president and chief executive officer of the American Apparel and Footwear Association (AAFA), talked about the role of international trade in his lecture "The Global Impact of Getting Dressed" Thursday evening, April 24, and emphasized the fact that the clothes most Americans wear are manufactured outside the United States.
Burke, who was introduced by Marsha Dickson, chairperson of UD's Department Fashion and Apparel Studies, and was accompanied at the podium by colleague and UD alumnus Nate Herman (BE '92), director of international trade for AAFA, addressed an audience of more than 120 students and faculty in the Trabant University Center Theatre and outlined the diverse issues facing apparel and footwear industries in the 21st century.
"I knew nothing about apparel when I joined AAFA in 2001," Burke said, "but you learn an awful lot in a very tough industry in seven years, and I was hired partly because of my lack of knowledge about apparel, so that I could look at challenging issues with fresh eyes."
Burke said that while his experience with apparel was minimal when he joined the AAFA, his experience with lobbying in Washington, D.C., was great. He went on to emphasize that the connection between politics and the fashion industry was intertwined.
"In the fashion industry, it's critical to understand how government works and how to lobby and advocate for issues that impact the industry positively or negatively," he said, citing a brief list of some of the trade associations and apparel manufacturing companies served by AAFA.
As CEO of AAFA, Burke oversees global market operations in an industry that has combined output accounting for more than $225 billion in yearly retail sales. AAFA members also produce more than 80 percent of apparel and footwear sold at wholesale each year in the United States.
Burke, who took an interactive approach with his lecture, volleying questions and dialogue to and from audience members, emphasized that the upsurge in the buying habits of U.S. consumers, coupled with the shift in manufacturing from the Northeast to foreign countries, has revolutionized the apparel and footwear industries since 1975.
"America has a love affair with clothes and shoes," he said. "In 2007 alone, U.S. consumers bought $370 billion worth of clothes and shoes, which translates to 20 billion garments and 2.4 billion pairs of shoes in one year."
Reduced to individual terms, Burke said this worked out to an average of 10 pairs of shoes and 28 shirts for every adult living in the United States.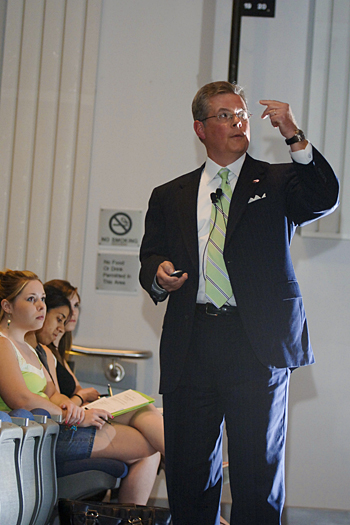 He gave a brief history of the manufacture of apparel and footwear since the Industrial Revolution and quipped that the ever-expanding size of the American closet has played a part in the voracious appetite for clothes in this country.
"Trade in apparel and footwear took off before the Industrial Revolution, as far back as when Britain was the center of apparel manufacturing," Burke said. "But even as late as the mid-'70s you could point to just about everything you were wearing and say that it was made in the United States."
Now, Burke said, the only officially mandated clothes made entirely in the United States, with all-American-made materials, are military uniforms, and that is not easily accomplished. He concluded his lecture by making the point that for the average civilian, it is nearly impossible to get properly dressed without wearing clothes, shoes and components made overseas or in Mexico, Central America or Canada.
Before joining AAFA at its Arlington, Va., headquarters in June 2001, Burke served for five years as vice president of governmental relations for Food Distributors International, a trade association representing wholesalers of food to independent grocers and restaurants. He was vice president of government relations for the American Bakers Association from 1987-95 and before that was manager of the National Association of Broadcasters. Additionally, he worked as a legislative assistant and press secretary to former Rep. Norm Lent (R-N.Y.).
Burke's talk was the culminating lecture this semester in a year-long series that focused on social responsibility and sustainability as it pertains to labor standards, working conditions, environmentally sustainable design and socially responsible consumer behavior in the fashion industry.
The series, now in its second academic year, is co-sponsored by the Office of the Provost; the College of Human Services, Education and Public Policy; the Department of Fashion and Apparel Studies; the Alfred Lerner College of Business and Economics; and the Department of Political Science and International Relations.
Article by Becca Hutchinson
Photos by Jon Cox