Former students honor Prof. James Soles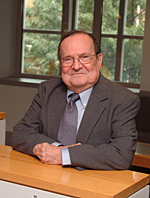 Alumni Distinguished Professor Emeritus of Political Science and International Relations James R. Soles
3:40 p.m., Sept. 19, 2006--More than 25 UD professors and students, including several former students, honored Alumni Distinguished Professor Emeritus of Political Science and International Relations James R. Soles at a luncheon held Saturday, Sept. 16, in the Trabant University Center.
Organized in part by James Magee, political science and international relations department chairperson and professor, the invitation-only luncheon paid tribute to Soles and his teaching legacy and gave him a chance to reconnect with students whose lives he affected and meet with those who have benefited from internships established in his name.
At the entrance to the banquet room, Soles greeted and shook hands with each guest and encouraged feedback from students who had received stipends from the James R. Soles Citizenship Endowment for public service internships.
"This was a very unexpected occasion," Soles said, "and a tremendous honor. It was arranged so that I could meet some of the recent interns and reconnect with some of my former students, including Chuck Lewis, who established a fellowship in my name at the Center for Public Integrity, [in Washington, D.C.,] which he founded."
Charles Lewis, a Newark native and former student of Soles, also greeted guests at the door. A 1975 graduate of UD, Lewis went on to found and direct the Center for Public Integrity, and in 1999 established the James R. Soles Junior Fellowship at the Center, to honor his favorite professor.
The fellowship, which supports two UD political science majors or minors each year--one for a summer internship and one for 12-month position--enables the recipients to work with journalists, policy-makers and government officials at the center while learning the political landscape of Washington, D.C. Twelve recent fellows were present at the luncheon.
Other guests included several current UD students and recent beneficiaries of stipends from the James R. Soles Undergraduate Citizenship Endowment at UD, a fund established by former students, colleagues and friends of Soles.
Now worth approximately $375,000, the endowment provides stipends ranging from $100 to $25,000 to UD political science and/or international relations majors or minors while they work as summer interns in public service assignments throughout the country.
Meredith White, a senior political science major from Kirkwood, Mo., who was awarded a stipend of $3,000 last summer while she worked in Washington, D.C., for her home state congressman, Russ Carnahan, said that the luncheon gave her a chance to meet Soles for the first time.
"It was such an honor to receive the stipend," she said, "and I'm very pleased that I'm getting the chance to meet Prof. Soles today.
"The $3,000 helped with my housing expenses and took a lot off my shoulders so that I could concentrate on the internship. It was an amazing experience. I worked almost every weekday from nine in the morning to six in the evening for free, and it didn't seem like a sacrifice at all. It was a real honor."
Jonathan Urick, a junior economics major and political science minor from Malverne, N.Y., said that he, too, felt honored to have a chance to meet Soles.
"The stipend I received last summer enabled me to intern for Senator [Tom] Carper for 10 weeks in Washington, D.C.," he said. "It gave me the opportunity to do extensive legislative research and allowed me to have a very enriching experience."
A specialist in American government and American civil liberties, Soles joined the UD faculty in 1968 and received the University's Excellence-in-Teaching Award twice during his tenure.
While actively teaching at UD, he was named a Danforth Associate, selected as an American Council on Education Fellow, and chosen as a Fellow of the Salzburg Seminar. He has received the Award of Excellence from the Delaware Department of Public Instruction, the Liberty Bell Award form the Delaware State Bar Association and the del Tufo Award for Distinguished Service to the Humanities form the Delaware Humanities Forum.
He is the co-author of The Government of Delaware and the co-producer of the WCAU-TV series, Delaware: The First State. He has written in the areas of constitutional law and politics, Delaware government and higher education. He received his bachelor's and master's degrees from Florida State University and his doctorate in government from the University of Virginia.
Article by Becca Hutchinson
Photo by Greg Drew
E-mail this article
Subscribe to UDaily
Subscribe to crime alert e-mail notification