UDaily is produced by the Office of Public Relations
150 South College Ave.
Newark, DE 19716-2701
(302) 831-2791

UD staff travel to Senegal for Sports Exchange Program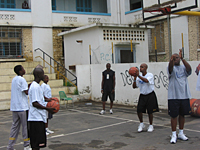 Monté Ross (center right), UD's new men's basketball head coach, demonstrates proper shooting form to youth at a basketball clinic in Senegal.
4:42 p.m., Oct. 3, 2006--A delegation from the University of Delaware that included Monté Ross, the new men's basketball head coach, visited Dakar, Senegal, in September to conduct youth basketball clinics and a coaching seminar as part of a U.S. Department of State-funded International Basketball Initiative.
The UD delegation also included assistant coach Stephen Stewart and Matthew J. Robinson, associate professor of sport management. They worked in conjunction with Basketball Without Borders Africa, a community relations outreach program of the National Basketball Association (NBA), and also with the Senegalese Basketball Federation and the nonprofit organization Sports for Education and Economic Development in Senegal (SEEDS).
Ross and Stewart led more than 150 boys and girls through drills designed to improve basketball skills and spoke to them about the importance of education and making responsible life decisions. The coaches also teamed up with players, coaches and scouts from the NBA to hold a clinic for youth in the city of Theis.
"Coaches Ross and Stewart were incredible," Robinson said. "They gave everything they had during the trip and the young people of Senegal benefited greatly from the experience."
Robinson said the UD delegation "owes a great deal of thanks to our on-ground partner, SEEDS, which publicized and organized the clinics."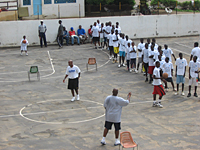 Besides leading more than 150 boys and girls through drills designed to improve basketball skills, coaches Ross and Stewart spoke to them about the importance of education and making responsible life decisions.

Robinson added special thanks to Amadou Gallo Fall, director of SEEDS and vice president of scouting for the Dallas Mavericks, and the members of the NBA league office "for all of their efforts in making the program a success."

NBA players Bruce Bowen of the San Antonio Spurs, Jimmy Jackson of the Los Angeles Lakers and Desanga Diop of the Dallas Mavericks were involved in the program, as was former NBA star Rolando Blackman, who is now in the front office of the Dallas Mavericks. Also involved were R.C. Burford, general manager of the San Antonio Spurs; Lance Blanks, assistant general manager of the Cleveland Cavaliers; and Tim Connelly, assistant director of player personnel for the Washington Wizards.

"Amadou is just a great man for what he is doing for his country through basketball, and I was just amazed at the level of commitment from the NBA in working with the kids in Senegal," Robinson said. "It speaks volumes about them as people and that level of commitment is why the NBA's Basketball Without Borders program is the premier international community outreach program in the world. We have been very fortunate to have had the chance to partner with them."

When not on the basketball court, the group was able to visit with young people in a pediatric cancer ward of a hospital in Dakar, and also to meet and dine with the U.S. Ambassador to Senegal, Janice Jacobs. They also attended the dedication of a new computer lab at the SEEDS Academy. The computers and renovations were funded by foundation created by former University of Missouri basketball coach Quinn Snyder, who also was on the trip.

The International Basketball Initiative at UD earlier had been involved with organizing and running clinics in Dakar in cooperation with SEEDS and the NBA in Dakar in September 2005 and May 2006. In November 2005, the program served as host to five coaches from Senegal. One participant, Mousthapha Gaye, led the Senegalese national team at the recent FIBA World Championships in Japan and another, Fatou N'Diaye, is an assistant coach with the Senegalese women's national team at the FIBA Women's World Championship being held in Brazil.

Currently the IBI is funding two graduate students, Cheikh Sarr and Papa Tine, who are matriculating in UD's educational leadership program with an emphasis in sport management and will be assisting with the Fightin' Blue Hens men's and women's basketball programs. Also, they will be working on grant projects to fund future programs in Senegal and with the SEEDS Academy to promote education through sport, Robinson said.

Article by Neil Thomas
E-mail this article
Subscribe to UDaily
Subscribe to crime alert e-mail notification